However, once you've built an amazing website with Wix, you still need to find the products you're going to sell, store them somewhere, and make sure you can ship them quickly to your target audience. Wix dropshipping solutions could make it simpler for you to get the right results without spending a fortune.
Wix dropshipping plugins and add-ons allow you to search through a wide selection of potential suppliers for your store, and work with them to get your items to your audience. Today, we're going to be looking at some of the best Wix dropshipping solutions.
What is Wix?
Running your own store is easier than ever when you're using a service like Wix. The Wix store building solution makes it quick and simple to set up the kind of store you want, with a range of excellent features like AI, professional templates, and more.
Read our Wix Ecommerce review.
What is Dropshipping?
Dropshipping is a powerful tool for running an online store, designed to minimize the amount you spend on warehousing, creating products, and fulfillment. With a dropshipping supplier, you don't have to worry about some of the most expensive parts of running your store.
Dropshipping companies create the products that you want to sell for you, so all you need to do is list them on your site and wait for a purchase. When a customer acquires one of your items on your website, you'll automatically inform your supplier, and they'll handle the rest of the work for you.
Dropshipping suppliers will create, pick, and pack your item, before shipping it off to your customer as quickly as possible. The supplier you choose will have a huge impact on the kinds of products you can access, as well as how quickly they get to your customer.
Dropshipping suppliers reduce the costs associated with stocking your goods and shipping them, as well as manufacturing. This means that you can focus on building your online store, marketing your products, and sending them off to your audience.
What are the Best Wix Dropshipping Apps in 2023?
Here are some of the best Wix dropshipping apps you can consider.

One of the leading dropshipping options on the market if you're interested in Print on Demand selling, Printful helps you to create and showcase your designs in a creative way. You can design amazing, customized products ranging all the way from hoodies and shirts to art prints and towels.
Printful is one of the better-known print on demand companies around, particularly because it offers a wide range of products to build your brand. With Printful, you can really develop an image for yourself and build a meaningful relationship with your audience. The service is easy to use, with mock-up generators to help you see your designs in action.
Pricing 💰
Printful is great for beginners because there aren't any monthly fees to consider. The company makes a small commission whenever you make a sale. You purchase a product for a specific fee and add your customizations, then you'll make the money between the cost of the product, and the price you sell it for.
Pros 👍
No monthly fees to worry about
Simple performance and functionality
No minimum order requirements
Integration with leading platforms
Create your own brand and showcase designs
Peace of mind with guarantee for damaged items
Cons 👎
Specifically intended for creative companies
Can get expensive for some products
👉 Read our Printful review.

Spocket is a flexible and convenient dropshipping application, ideal if you're a Wix user. For Wix business owners, Spocket comes with easy integration options, so you can connect quickly with your online store. You can build an entire store with ease, access suppliers quickly in the European landscape, and so much more. Spocket also doesn't source products from too far away either.
Because there are warehouses located close to home, you're more likely to be able to deliver products quickly to your customers, which means they get a batter quality of customer service. You can start using the service without paying anything, and access useful tools like inventory tracking and shipping tracking, so you can tell your customers where their items are.
Pricing 💰
Spocket is free to use for beginners, or you can jump into various paid platform options to increase your sales, such as the $24 per month option which comes with unique products and email support. You can also access "Pro" for $49 per month for even more products and branded invoicing, or Empire for $99 per month with up to 10,000 unique products.
Pros 👍
Automatic inventory tracking support
Automated order fulfilment and pricing
One-click product importing
Real-time order tracking
Powerful shipping tracking
Cons 👎
Product limitations
No custom duty and taxes
👉 Read our Spocket review.

Now that Wix owns Modalyst, it makes sense to rank it as the top dropshipping tool for Wix website users. The Wix environment is naturally aligned with Modalyst, so you can easily implement the service into your Wix environment within a couple of clicks.
If you're looking for a quick and easy way to bring your business to life. This easy-to-use service plugs into your Wix environment quickly and easily. You can use it to connect to suppliers from locations around the world and choose from a wide range of products to support your brand.
Modalyst is popular among many companies because of how easy it is to use. The service comes with a convenient interface which doesn't require a lot of background knowledge about dropshipping. Searching through suppliers and finding products suitable for your store is simple. You can even track your progress with the mobile app.
Pricing 💰
There's a free service available with Modalyst if you're happy to sell no more than 25 products. However, if you want to be able to sell more, you'll need a paid plan starting at around $35 for 250 products. The more you want to sell, the more you'll pay, and there's a 5% transaction fee to worry about too.
Pros 👍
Integrates with Wix, Shopify, and BigCommerce
Automatic product tracking
White label dropshipping support
Lots of product options
Plenty of options for high profit margins
Cons 👎
Cheaper plans are quite limited
5% transaction fees
👉 Read our Modalyst review.

Originally launching in 2005, Salehoo is a fantastic dropshipping tool for Wix and other leading website builders. The biggest benefit of Salehoo is the quality of products the company can offer. Among the leading dropshipping suppliers in the world, Salehoo competes with major market leaders, thanks to its wide selection of reputable brand products, like items from Lego, Sony and Disney.
Salehoo also offers fantastic customer service, which isn't always easy to find with print on demand companies. You can access some of the leading products on the market without having to worry about what happens when something goes wrong.
Pricing 💰
The biggest downside of Salehoo for some companies is that there's a one-off fee to get you started. You'll need to pay $67 to join the community, but after that, there aren't any hidden fees to worry about. The only extra expense you'll need to consider (beside the costs of paying for your products), is a possible application fee for some suppliers. There's even a 60-day money back guarantee.
Pros 👍
Excellent customer service solutions
Fully vetted suppliers for peace of mind
Access to brands like Lego, Disney, and Sony
Suppliers are fully vetted
Training and support included with the service
Good market research
Cons 👎
Expensive marketplace environment
Can be difficult to find a wide selection of products
👉 Read our Salehoo review.

Notably, AliExpress and Alibaba are owned by the same company. Alibaba is the B2B company that allows businesses to make wholesale purchases from suppliers and manufacturers around Asia. The sheer quantity of products available via Alibaba makes it an excellent way to track down products if you're running your own store.
AliExpress is the B2C platform designed for consumers who want to look for a range of products at an affordable price. You may be able to access small quantities of the products you want through AliExpress, before you take the wholesale route with your purchases.
Both Alibaba and AliExpress stand out among the most popular supplier platforms in the world, with a huge online directory, and access to suppliers all over the world. You also get the bonus of a system that allows you to gauge the trustworthiness of suppliers through their rating, reviews, and transaction level. Features include:
Trade assurance suppliers who meet strict quality standards
Gold and assessed suppliers who have been fully authenticated
Secure payment service where your money remains in escrow until confirmed
Access to suppliers around the globe
Quick and easy to find and assess supplier options
Simple platform design
Plenty of payment options to choose from
Though Alibaba and AliExpress are extremely popular, there are some downsides you should be aware of. For instance, accessing products through each of these services means that you're going to be buying products from Asia, which means that the delivery times aren't always great. It's also worth noting that your suppliers might not always speak English, which creates a language barrier if you have any problems with a transaction.
Pros 👍
Quick access to tons of great products
Lots of assessed suppliers to choose from
Simple design for the platform
Plenty of payment options
Convenient global presence
Cons 👎
Usually slow shipping
Not the best quality assurance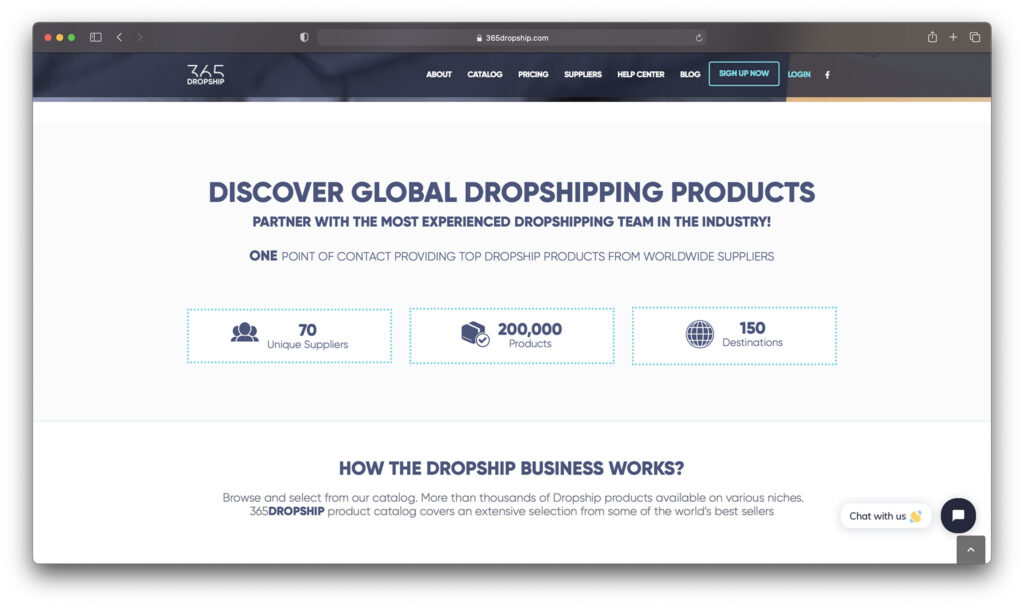 365 Dropship is another great solution for ecommerce entrepreneurs in search of a way to begin their dropshipping business. Great for Wix.com users, 365 Dropship offers a wide variety of dropshipping products to choose from in a range of categories. Like with most dropshipping solutions, you can focus on building your ecommerce store, while 365 Dropship handles fulfilment.
365 Dropship allows you to partner with the most experience dropshipping team in the world, with around 70 unique suppliers, hundreds of thousands of products, and more than 150 destinations to ship to. There's direct shipping, unique international suppliers, and a wonderfully advanced user interface. 365 Dropship makes it quick and easy to run your entire store.
Pricing 💰
Another good thing about 365 Dropship is there are a set of three different pricing plans to choose from. You choose your plan according to the options you most want to have. Minimum order isn't required in any of the plans, and there's a 7-day free trial that gives you the opportunity to experiment with the service before you sign up.
Pros 👍
7-day free trial for beginners
No monthly payment for subscription
Great for earning a decent profit on the Wix ecommerce platform
Easy to use backend with tons of dropshippers
Exclusive connection to various suppliers
Cons 👎
Some limitations in product options
Takes a while to set up your new dropshipping store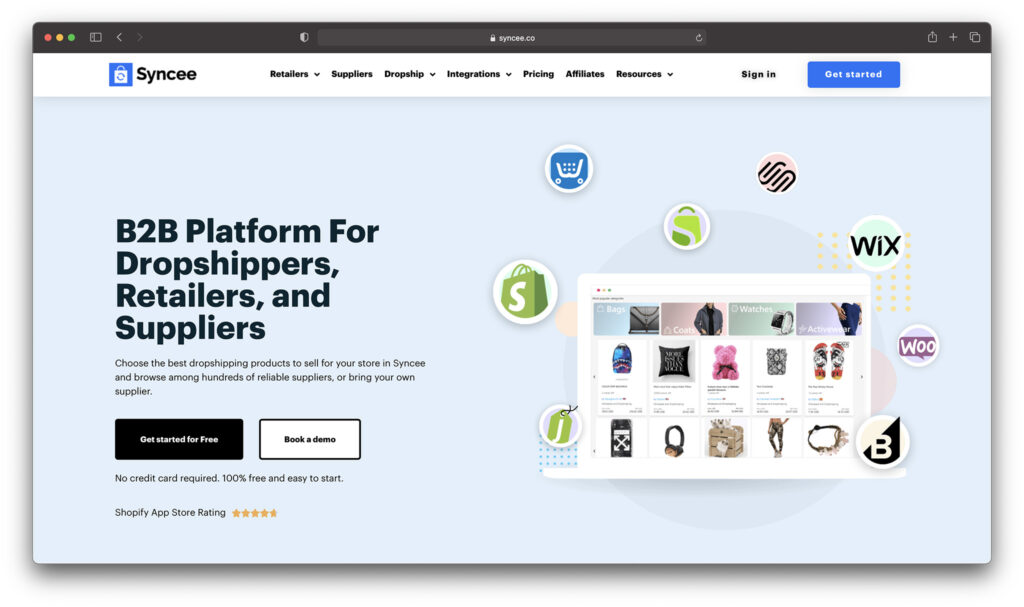 Syncee is a powerful B2B platform for dropshippers, suppliers and retailers. If you're looking for a convenient dropshipping platform with a simple storefront environment, Syncee has you covered. Shopping for high-quality products is just as simple as shopping on Amazon. Syncee even has a range of European and UK dropshipping suppliers too.
The great thing about Syncee is how simple it can be for beginners. You don't need to pay anything for a subscription if you're selling less than 25 products. There's also a location filter for helping you find your suppliers, an automatic ordering feature so you can run a faster business and more. Syncee even has a dedicated app for Wix. You can find it among the business tools in the Wix app market.
Pricing 💰
With Syncee, users can get started and sell products immediately, without any fees. You'll only need to pay when you go over 25 products within your Wix site. After that, there are various pricing options to choose from, including Basic for $29 per month, Pro for $79 per month, and Business for $129 per month.
Pros 👍
Range of pricing options including free version
Chat with suppliers on-site
Location filter to help find suppliers
Automatic ordering feature
Dedicated Wix app
Cons 👎
Can be complicated compared to other business tools
Pros and Cons of Dropshipping with Wix
For those planning on dropshipping, Wix is an excellent tool. There are tons of dropshipping app options to choose from, offering excellent ease of use, a simple checkout experience, and even integration with other tools (like email marketing services).
However, before you jump into purchasing your new dropshipping solution, you'll need to ensure this method of order fulfillment is right for you.
Adding a dropshipping service to your Wix account or even a WordPress or Shopify store can be an excellent way to upgrade your business quickly. There's no need to worry about the headache of stocking inventory or getting products to customers. All you need is your Wix account, a payment method option (like PayPal), and your dropshipping supplier to handle the hard work for you.
Dropshipping is a good choice when you want a simple and low-cost way to start selling online. You can calculate your profit margins upfront and pick from a wide range of suppliers. If you're not sure what you want to sell, you can even use a dropshipping supplier to access a range of trending products with ease. Of course, dropshipping isn't right for everyone.
With a dropshipping supplier, it's still up to you to deliver excellent customer support and keep your customers happy. You need to build and run your Wix website yourself, and chase up suppliers if anything goes wrong. Additionally, because you're getting access to the same t-shirts and other products as everyone else, it's hard to build a brand. You might be limited in your markup options when competing with other companies.
Pros 👍
Easy drag and drop approach to online selling
Can be compatible with SEO and social media marketing strategies
No need for storing or buying inventory
Easily change and update your product offerings
Low startup costs
Cons 👎
Not all drop shippers offer great quality
You need to chase up after supply issues
Finishing Thoughts
If dropshipping still appeals to you when you've considered all the pros and cons, the good news is you have no shortage of suppliers to choose from, particularly with a website builder like Wix. Check out the app store, and look for companies with a direct connection to Wix for the best results.