The best POS systems will enable your business to accept payments quickly from customers in your brick-and-mortar store. There are many different solutions available and we have put together the 7 best.
We have looked at the pros and cons of each, what features they offer that set them apart and what sort of business suits each software.
At the end of the article, we pick a winner, a highly commended and runner-up. Are there any we haven't mentioned? Leave it in the comments below.
Best POS Systems
What is a POS system?
Before we get into the best POS systems, let's define what it actually is.
POS stands for point of sale system. When you enter a brick-and-mortar store and purchase some goods, this will be done through the point of sale software.
Essentially, a POS system is a combination of software and hardware that enables stores to carry out transactions with their customers.
POS software has seen a real gear shift through the years with retail stores adopting cloud-based POS systems, rather than the traditional cash register approach.
It's big business with the value of cloud-based POS software looking to exceed $3 billion by 2023.
No time to read? Here's our no.1 pick when it comes to the best overall POS system in the market:
Remember the last time you bought something from a brick-and-mortar store? The place where you finally proceeded to pay for your shopping is a POS, or a point of sale in full.
In simple terms, therefore, a POS system is a combination of hardware and software that form the central checkout point, from where customers complete their in-store transactions.
Click the + for more info
That said, we've managed to compile a list of the 13 best POS systems, based on the typical retail business environment.
👉 And so, without further ado, here's the big reveal in no specific order:
Picking the Best POS System: Table of Contents
What is the Best POS System in 2022?
Here's our list of the best POS system options in 2022 (in no particular order).
Shopify POS is ideal if you already have an ecommerce store and you are looking to branch out to bricks and mortar, or perhaps just to sell at trade events or via a pop-up. Shopify payments mean you can get set up in an instant and their CRM system is brilliant for keeping information on your customers.



The ecommerce giant also has its own POS software and it's trusted by over 1 million businesses. Shopify reports that businesses see a 30% year-on-year growth in revenue if they use POS to unify their offline and online sales.
👉Read the full Shopify POS review.
Features
Shopify Payments – skip the lengthy process of activating third-party payment processing and begin to process payments with one click
Marketing Campaigns – Shopify POS allows you to collect emails at the checkout so that you can reengage with customers. You can also ingrate with your social media channels to push customers to your store
Google Ads – when you choose Shopify you are given a Google Ads credit to get you started on promoting your business
Hardware
Shopify has fewer hardware options than Square and they are pricier. Their card reader is £49 + VAT. Their retail system bundle offers an iPad POS at a very reasonable £149.
Additional items such as barcode scanners, receipt printers, and a cash drawer can be purchased. All items have a 30 day free returns policy.
Pricing 💰
In order to take advantage of Shopify POS, you need to be using an ecommerce plan first. The prices are as follows:
Shopify Lite – $9 /mo
Basic Shopify – $29 /mo
Shopify – $79 /mo
Advanced Shopify – $299 /mo
Transaction fees are charged at 2.2% on the first two plans, 1.9% on Shopify, and 1.6% on Advanced.
👉 Read our full Shopify review.
Pros 👍
CRM – leave notes on customers, access their lifetime spend, and check past orders. The marketing integration means you can create effective campaigns to target their interest
Support – 24/7 and 365 days a year, what more can you say
Payments – Shopify's built-in payment system can be set up in just one click
Cons 👎
Flexibility – you need to have an ecommerce plan with Shopify to use their POS
Who is it best for?
If you're running a restaurant or a coffee shop then a different solution is best for you. However, if you already operate online with Shopify and want a fantastic POS system with great marketing integrations then it's ideal.
Square POS – Most Popular POS System
Square offers fantastic POS features including inventory tracking, a great team management module, and very affordable hardware. In addition, there is no setup fee and you are only charged when you take a payment.
Square also gives you the option to begin selling online as well. It covers every aspect of your business needs.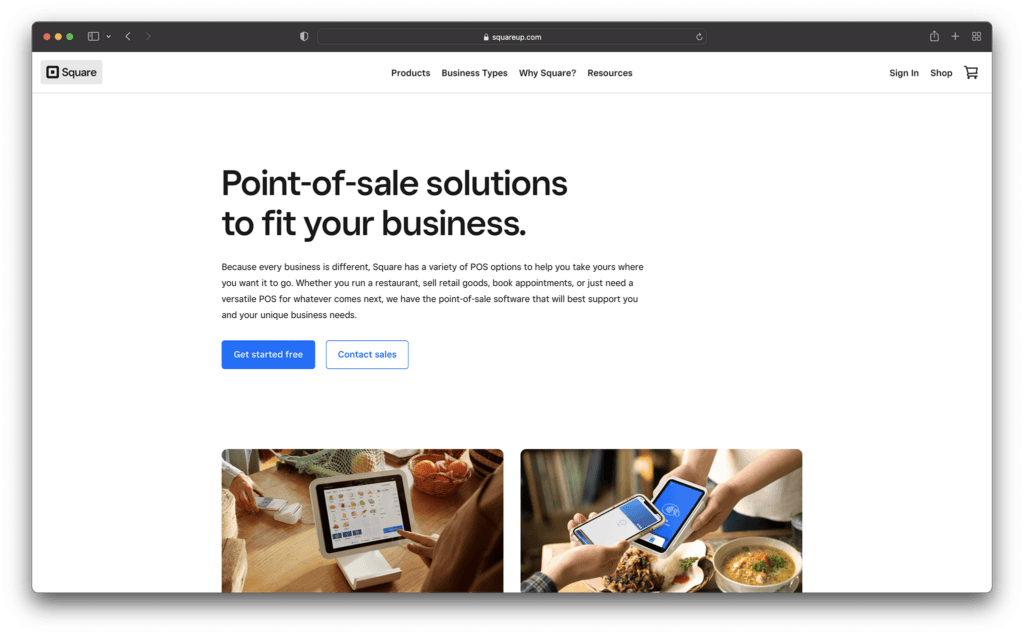 Arguably the biggest player in the game, Square POS supports 2 million businesses worldwide. Over time 340 million customers have used their credit and debit cards to make a purchase via Square.
Features
Inventory Management – managing your stock from one centralized place reduces the risk of people placing orders of items that are out of stock. Square allows you to sell in person, online via your store, and on social media channels such as Instagram and Facebook.
Team Management – track your employee's hours, if they've taken over time, and when their breaks are. You can also allow or restrict access to certain levels of staff and reward staff based on their performance. This ensures your back-office is all in check
Customer Profiling – understand your customer's behavior by tracking their previous purchases. To improve customer loyalty you can offer gift cards to them in-store or online
Reporting – Square's dashboard is so clean. See which payment processing types are the most popular, which products are selling well, and data on how often customers return
All of these reports can be viewed from Square's app, to ensure you can stay in touch with your business whilst on the go.
Hardware
Square offers a wide range of hardware, from a simple credit card reader at £16, to the Square Register at £599.
They are offering £120 off Square Register with the code REGISTER120.
Sell online
If you have a brick-and-mortar store and you're looking to branch out online then you can set up a store via Square.
This can be set up for free, where you only pay when you have made a sale. The credit card processing rate is 1.9% for a European card and 2.9% for a non-European card.
Square for Restaurants
Square has recently launched a restaurant pos. You can take orders in person, over the phone, or online ordering. You can also manage all third-party orders from Deliveroo, Just Eat, and Uber Eats
👉 Read our Square POS for Restaurants review.
Pricing 💰
Square is free to use, there are no setup or monthly fees and you only pay when you take payments.
You will pay 1.75% for chip and pin and contactless payments. If you create purchase orders or invoices and send it to a customer you will pay 2.5%.
Square has custom pricing available if you are an enterprise business and take more than £200k in sales annually.
Pros 👍
Intuitive – Square's dashboard is so clean and easy to use. The reporting functionality is unmatched and gives you a great overview of your business
Pricing – not only does Square offer a free plan but there is no commitment in the contract
Mobile POS – Square's app is available on both Android and iOS. It is superb and also works offline
Cons 👎
Enterprise – if you are a large company the rates for more orders isn't brilliant and you will find yourself paying high processing fees
Support – customer support can be quite slow and there is no support available on weekends, which is likely to be your busiest period
Who is it best for?
Square's POS is built for small businesses. If your business is predominately offline but you do sell online, or are planning to, then Square is a great fit. Their inventory management is industry-leading and helps track stock across all your channels.
Lightspeed POS – Best POS System for Retail
LightSpeed is a magnificent beast for retailers. It's more suited to Enterprise level customers and Lightspeed's superb support team will aid you with onboarding which can otherwise be quite complicated.
The analytics package is what really sets them apart from their competitors. 50 built-in retail reports are available in real-time on desktop and mobile devices.



Lightspeed POS has generated over $33 billion and employs over 1,000 employees. Since launching in 2012 they have specialized in ePOS systems for retail businesses, ecommerce, restaurants, and golf.
Features
Ecommerce – Lightspeed offers the ability to start an online store alongside your POS system. They also offer some fantastic guides on how to start an ecommerce business.
Local inventory ads – sync your inventory with Google ads and create ads directly through Lightspeed
Appointments – if you offer repairs or personal shopping experiences then you can book appointments straight through the POS software
👉 Read the full Lightspeed Retail POS review.
Hardware
Lightspeed offers both an iPad and desktop hardware kit, these both include a scanner, printer, and cash drawer. All of these can be purchased individually as well. No prices are listed on the website though and you need to contact sales.
One really nice touch is the branded gift cards. These can really help you stand out and are great for brand recognition.
Pricing 💰
All of Lightspeed's pricing plans below are if you take out an annual plan, as opposed to monthly.
Basic – $69 /mo
Standard – $99 /mo
Advanced – $169 /mo
Pro – $229 /mo
If you want to incorporate ecommerce then you will need to subscribe to the Standard plan. All plans are available with a free trial.
Pros 👍
Support – as well offering free one-on-one onboarding sessions, customer support is available 24/7
Analytics – Lightspeed has introduced a new solution called "Analytics Core" which is great for cutting through the noise and producing very simple reports which update in real-time and will streamline your whole business
Cons 👎
Pricing – Lightspeed is expensive. In order to use the customer loyalty programs or analytics features you need to be on at least the Advanced plan
Operating System – the system can only be run on Mac software
Who is it best for?
Firstly it's preferable for people who use a Mac. More importantly though it's clearly built for Enterprise customers. Lightspeed is expertly set up for managing multiple shops with its centralized purchasing and master orders

Quickbooks are predominately known for offering simple and smart accounting software. Their retail POS system's integration with accounting is ideal if you are already a Quickbooks customer.
Features
Sync with Quickbooks – their POS links effortlessly with their accounting software meaning you can save time on processing taxes
Email marketing – send digital records of purchases to your customers. This reduces the risk of fraud and also simplifies the returns and exchanges process
Payments – Quickbooks accepts every possible payment, including Paypal, Samsung, Google, and Apple Pay. All of their payment plans are contract-free as well
Hardware
Quickbooks offers a fantastic range of hardware. Including mPOP's, pin pads, cash drawers, barcode scanners, and receipt printers. All of these are offered in various bundles and available in black and white.
Prices range from $109 for a cash drawer to $900 for a hardware bundle.
Quickbooks hardware is also locally installed rather than cloud-based. This means you'll need to maintain and upgrade your hardware. This isn't incredibly difficult but can be quite time-consuming. This also means that you will need an internet connection at all times in order to receive payments.
Pricing 💰
Quickbooks is an anomaly from the other POS solutions in this list as their pricing plans are offered as a one-off payment.
Basic – $1,200 – small business owners
Pro – $1,700 – bigger company with multi-locations
Multi-store – $1,900 – enterprise businesses
At the time of writing, Quickbooks is offering a 20% off deal from the above prices.
Pros 👍
Loyalty Program – you can add coupons to receipts after a customer has ordered. Quickbooks "Constant Contact" marketing tool makes it easy to send timely offers in just one click
Gift Cards – customizable gift cards can be created to match your brand. There are also no fees if customers purchase your gift cards
Cons 👎
Pricing – one-off payments are an interesting tactic. If you are a start-up business the smallest price tag of $1,200 may be off-putting
Flexibility – The POS is Windows-only and will only run on a desktop or tablet that runs Windows 10
Who is it best for?
It's a good solution if you already have Quickbooks accounting. It probably is more suitable for bigger businesses as the initial one-off payments may scare off people just starting up.
Best POS Systems: Vend POS


When it launched as a cloud-based POS system in 2010, Vend was seen as quite a revolutionary system. Their eye for new features hasn't let up since and its why they are regarded as one of the best POS systems.
Features
Mac & PC – unlike other POS systems. Vend is available on both Mac & PC, it also works online and offline via an Android and iOS app
Quick keys – to speed up the process of checking out, you can create custom buttons for popular products. This is a really helpful feature for your staff to provide a quick service
Custom receipts – you have the ability to add your logo and company branding to your receipts. You can create various templates and can also print or email receipts in various languages
Hardware
Vend doesn't sell hardware directly through their website. Vend link off to Storekit where you can purchase suitable card readers, printers, and cash drawers.
They also have a list of compatible hardware that can be used with their system.
Pricing 💰
All Vend plans are month to month and can be cancelled at any time. All plans also come with a 14-day free trial. All prices below are if you take out an annual package.
Lite – $99 /mo
Pro – $129 /mo
Enterprise – Quote
Vend also offers several add-ons, for example, if you want to add an ecommerce store that you already have this will cost $29 extra a month on top.
👉Read the full Vend POS review.
Pros 👍
Support – unlike others in this list phone support is offered across all the plans. On the Enterprise plan as well you can also have a dedicated support manager
Usability – the quick keys option, product search, and sales notes are very clean and incredibly user-friendly
Cons 👎
Reporting – compared to others, Vend's reporting is quite basic. The customer display section for example is not available on desktop, but only on iPad
Card Payments – payment options are not that varied outside of the US. If you're in the States you can take advantage of 13 payment options, whereas the UK only has 6
Who is best for?
Vend is incredibly easy to use and is probably most suitable for small to medium-sized business owners. The reporting functionality is quite limited, so it probably wouldn't suit an enterprise business.

Bindo is arguably one of the lesser know POS solutions, so you may be surprised to hear that over 10,000 customers now use Bindo. When you dig a bit deeper you can see that they were set up in 2014, so where have they been are they any good?
Features
Smart Register – in fairness has one of the best Registers on this list. If you scan a product it will give you like-minded products which currently have a promotion, so you can upsell to customers
Advanced Purchase Orders – Bindo offers a lot of advanced payment and billing options, with the ability to "pay now, bill later" and to create a credit account for a customer
CRM – understanding your customer's insights is very easy with the help of rating forms. You can quickly send a one-click review survey out of 5 to see how your customers rate you
Hardware
All of Bindo's hardware comes with free shipping within the US, a 30-day money-back guarantee, and tech support to help you get set up.
Bindo has a fantastic range of hardware, including different models of credit card readers, varying iPad sizes, and even a self-serve kiosk.
Pricing 💰
There is no pricing available for the hardware or any obvious subscription plans.
Having dug around we can see that pricing is based on the amount of SKU numbers you have, however, nothing is set in stone. Essentially each plan is custom-built for each business.
👉Read the full Bindo POS review.
Pros 👍
Hardware – a great selection and the only business on this list to offer kiosks
Ecommerce – Bindo have their own ecommerce platform, but they can also integrate third-party ecommerce platforms such as Shopify and Magento
Cons 👎
Pricing – hard to say it's a definite disadvantage but the fact it isn't visible on the website is a bit suspect. Reading around there appears to be a quite hefty activation fee of $150 for any plan
Leases – hardware contracts can be quite confusing. Customers have complained that not only are the leases of equipment too long but they didn't realize they had agreed to that length of time
Who is best for?
It's hard to say. One thing for certain is that the register is very intuitive so if you want to limit the time training takes for your staff and want to speed up purchasing it's a good fit. However, there are far too many questions over Bindo for us to be recommending them.

In February 2021 iZettle rebranded to Zettle by Paypal after it was bought out by the payment giant in 2018. Zettle is arguably the Square equivalent of Europe and that's where its main customer base is settled.
Features
PayPal payments – if you select PayPal when a customer orders then a QR code will appear. The customer will just have to scan the code to pay
Text payments – if you're taking an order over the phone, you can create the order and then send a text link to your customer. They just need to press that and pay
Gratuity – not just handy for restaurants but also retail. Customers can add gratuity payments and these will then appear in your sales reports. This can show you then which staff have received what
Hardware
Zettle has a great array of hardware that's arranged into popular products and categories such as till systems, card terminals, and POS hardware.
Zettle also offers a social distancing screen to keep your customers safe. You can also build out a custom-made store kit. Card terminals start from $59, however, after signing up you can get this for $29.
Pricing 💰
Similar to Square, Zettle's pricing is free and there is no cancellation fee.
The benefit of PayPal buying out Zettle is that payment fee are just 1%. The other fees are exactly the same as Square.
Card transactions – 1.75%
Invoice transactions – 2.5%
Payment link transactions – 2.5%
PayPal QR transactions – 1%
Zettle offers a custom plan for companies that take over $10,000 per month. You will just need to contact the sales team.
👉Read the full Zettle POS review.
Pros 👍
Payments – there so many options for customers. Not only that but the cheap fees for PayPal are superb, plus the flexibility of text messaging payments
Free – their POS solution called Zettle Go is free to use and it integrates with many apps. Customer support is available on the free plan as well and is available 9am-5pm
Hardware – the amount of hardware available is superb and it's fairly inexpensive. Whether you are retail or a restaurant there are a number of products, all of which come with free shipping and an express replacement service
Cons 👎
Offline – the restaurant app is available offline, but Zettle Go for retail isn't available offline
Ecommerce – there isn't an ecommerce integration available, Zettle suggest you integrate with Seltz which isn't a top pick in regards to ecommerce platforms
Who is best for?
Similar to Square it's ideal for small to medium-sized businesses. The fact that setup is free, there is no cancellation, and hardware is decently priced is a big benefit if you aren't cash-rich.
The lack of an ecommerce integration is an issue if you decide you want to begin selling online in the future.
What to Look For When Choosing a POS System?
Admittedly, choosing a POS system can be a nightmare, especially if you're looking for the best possible fit. There are numerous potential solutions, each with its own unique range of features. That's why, as a matter of fact, 56% of retail businesses take about 2-6 weeks of searching to make a decision.
All things considered, however, it's possible to identify the best POS system for your retail business in a relatively shorter period of time. The secret is using a structured selection process.
Click the + for more info:
How to Choose a POS system?
Before choosing which POS software you will be using, it's worth considering the following factors.
Click the + for more info
Best POS Systems: FAQ
What Is A POS or ePOS System?
An EPOS, or Electronic Point of Sale, is a specialized in-store management system that combines hardware and software resources to dynamically process transactional data.
EPOS systems go above and beyond the capabilities of traditional registers. While the latter essentially recorded sales, EPOS systems are designed to not only record, but also process and save the sales data automatically. Then subsequently, the information is analyzed to generate critical business insights.
That said, most EPOS systems now rely on cloud-based software plus locally-available hardware.
How Do POS Systems Work?
A POS system is not a single element or machine. It's a combination of multiple hardware and software components, which collectively process your in-store transactions, as well as enhance your overall business management capabilities.
Previously, point of sale systems were pretty basic. In essence, the product prices were entered manually to complete a sale.
Then came the era of EPOS plus cloud-based POS systems, and everything changed. Today, POS systems work by leveraging the power of computer hardware and software.
The software itself is built with two access points. The backend (also known as dashboard or back-office), for starters, handles management and reporting.
Then the frontend, on the other hand, serves are the principal input interface. Transactional data is fed into the system and processed based on parameters set through the backend.
How Much Does an POS System Cost on Average?
An entry-level EPOS system, for starters, will cost you about $1,000 to set up. This caters for software installation and training, plus hardware such as card readers, a receipt printer, and an Apple iPad device.
A mid-level POS system, on the other hand, has a setup cost of about $1,500. This pays for additional hardware across multiple locations.
Then, to put up an advanced EPOS system, you may have to spend about $3,000. This provides specialized large scale resources for facilitating extensive retail enterprises.
Beyond that, cloud service subscription costs are pretty diverse. Some of the POS software options offer basic functionalities for free, while others might charge you between $20 and $70 for standard features. Mid-level capabilities are costlier, and could stretch to hundreds of dollars per month.
All in all, the amount you end up paying depends on numerous factors: your business size, package features, retail needs, types of products, location, software capabilities, etc.
Best POS Systems: Conclusion
Deciding which solution is best for you is dependent on many factors. If you are strictly just going to open a brick and mortar store and not venture into the world of ecommerce then Zettle is a great fit.
For small to medium-sized businesses you should look no further than Square and Vend. If you are expecting big sales initially or know the company will scale then Lightspeed seems a great fit.
If you already have a Shopify store and want to sell at events, tradeshows, or a pop-up event then for continuity Shopify POS will be a great fit as it can be tagged on at no extra cost.
Have you tried any of the above? Are there any POS systems missing from our list? Leave a comment below.