White labelling is a common concept for agencies and professionals in the graphic design space. Unlike other website building tools that are clearly designed by companies like Wix or Shopify, a white label website builder allows pros to put their own branding into the experience.
Imagine you were running a web design company and you wanted to show your customers how you're bringing their design ideas to life.
Walking them through the steps that you use on a Magento or WordPress site won't be as impressive as showing them a back end with your company's logo and colors. White label solutions are the perfect way for a reseller or site builder to build a name for themselves.
So, which are the best white label website builders available right now?
That's what we're here to find out.
What is a White Label Website Builder in 2022?
As mentioned above, white labelling is a go-to-market strategy used by resellers, agencies, and freelancers alike. A white label solution erases all the branding from the service in question, so you can add your own image instead.
For instance, if you choose a Wix white label experience to build websites for your customers, they wouldn't be able to see any Wix branding that indicates you used that service. Instead, they'll just see your branding, including your colors, features, and logo. You can even use your white label website builder to create a customer portal where clients can update their website when they need to.
Whenever they log into the back end to update components, they'll see your own branding, reminding them why they're working with you.
White labelling comes with a lot of benefits for companies that create and resell websites. You can increase your customer base, improve website traffic, and even access more profit, because your customers don't know how much it costs to build a website with your chosen tools.
White labelling is a strategy that companies use when they want to go beyond simply reselling solutions made by other companies. Although you still get to access the technology created by the company that you choose, you do it in a way that allows you to maintain ownership of the customer.
When you use a white labelling service, there's not as much risk that your clients will decide that they're going to cut out the middle man and just go and sign up for the website builder you're using to create their site, and do things themselves. You get to offer a more memorable and meaningful customer experience.
Now that you know what it means to use a whitelabel website builder, let's take a look at some of the most appealing options.
What are the Best White Label Website Builders?
1. Wix – Best White Label Website Builder

Wix is one of the better-known website building solutions on the market today, offering excellent simplicity, convenience, and customization. The all-in-one website builder doesn't come with a traditional white label solution, but you can become an affiliate to earn money generated on a Wix site or become a Wix "partner" which allows you to add your own branding spin to the mix.
The Wix partner program ensures that you earn points every time that you create a client website. You also get a range of exclusive benefits to help you scale your company. You can create a seamless experience with Wix, complete with client feedback, custom branding, and a comprehensive client billing system that you control.
Wix partners get access to a comprehensive backend environment for building website, but they also get a bunch of extra features too, like priority support, a dedicated account manager, and custom solutions. Some other features you can expect include:
Comprehensive service and support from Wix
Direct support from developers
20% revenue earning share
Support to join the Wix marketplace
Feedback from customers
Custom client building
Unique branding
Pricing 💰
The pricing for the Wix partner program is a little less transparent than the costs of just building a Wix website. You'll need to reach out to the team and provide them with some information on what you want to do. From there, they'll give you a tailored quote.
Pros 👍
Great support and developer access
Wix marketplace support
Custom branding
Excellent range of feature
Lots of extra ways to serve customers
Cons 👎
Not true white labelling
Limited profits

HubSpot CMS Hub is a powerful website builder that allows you to take advantage of HubSpot's world class CRM to personalize your website visitors' experiences while staying true to your brand.
HubSpot is a CRM platform that was designed with the intention of helping grow your business and this website builder does just that, allowing you to optimize your marketing, sales, customer service, and operations.
Every interaction someone has with your website is automatically stored in the free CRM. This is valuable information you can use in your marketing campaigns, to close more sales, and to provide faster customer support.
It's great for marketers as it requires little to no technical knowledge and the user interface is made to help you optimize your site and content. But for more advanced needs, it offers great resources and customizability for developers, and security is fully handled on HubSpot's side, so you don't have to worry about keeping up to date with plugins and constantly monitoring for attacks.
Features include:
Fully integrated CRM
Custom as-you-type SEO recommendations
Large selection of original website themes
Drag-and-drop website page editor
Adaptive page testing
Contact attribution reporting
Local website development
Serverless functions
​​24/7 security monitoring & threat detection
Content delivery network & custom CDN configuration
Pricing 💰
HubSpot CMS Hub comes with a free 14-day trial that allows you to fully test out all the features. Plans start at $25 per month and you also get all of HubSpot's free marketing, sales, customer service, and operations tools, as well as the CRM.
Pros 👍
No technical skills required
Custom SEO recommendations
Built-in SSL certification and security features
Free HubSpot CRM
Website page personalization features
Extensive developer documentation and active online community

To get white label website building functionality from Squarespace, you'll need to join "Circle". The Circle environment offers Squarespace site builders the chance to access all kinds of tools, community support, educational components and perks.
With Circle, you can design your websites for customers using a fully customizable environment with all the features you know and love from Squarespace. Like many leading platforms on the market today, there are plenty of features to get you started, from a comprehensive resource hub, to optimized customer service support, and a comprehensive training program too. There's also the option to boost your chances of leads with the Squarespace marketplace.
One of the best features of the Squarespace service is the community, where you can connect with other professionals and exchange ideas. There are circle events, and creative collaboration opportunities, plus a comprehensive forum. Features of Circle include:
Comprehensive community support
Discounts for new sites
Trial periods up to 6 months
Support for beta tests
Early release notes
Excellent range of features
Global recognition
Organized calendars
Again, with this Squarespace system, you don't get a fully white labelled experience, as you'll still be showcasing the Squarespace Circle badge.
Pricing 💰
Circle membership is currently free for freelancers and agencies. You'll need to be eligible to get involved, however. There's no extra fee to start using the service, but you will need to pay for the Squarespace sites and features you access for customers, so it's important to keep that in mind.
Pros 👍
Great community support
Long trial periods
Great discounts
Excellent selection of features
Global recognition for your brand
Cons 👎
Not fully white-labelled
May not be suitable for all customers

Ecwid is our first option for a reason. They provide one of the most powerful white-label cloud-based SaaS solutions for agencies to combine with their services in graphic design, marketing, and software development. Ecwid is also known for its ease of use and quick implementation and has won awards in that regard. This means that your clients will be comfortable managing their stores and that you can offer fast turnaround times for building and launching custom stores. Ecwid also provides affordable pricing combined with reseller discounts that enable your brand to have a competitive edge.
Partners of Ecwid can also customize the website builder's platform to easily fit your branding, billing schedule, and pricing plan. Another attractive feature of Ecwid's white-label website builder is that it is completely cloud-based. This means that their eCommerce hosting is powered by Amazon and you don't have to bother about software updates, hidden hosting fees, or store speed. Ecwid stores can also be seamlessly integrated into a custom website or any site builder. And there is also a white-label WordPress plugin that you can access as a reseller. Concerning transactions, Ecwid supports more than 50 payment providers, and both you and your customers will never be charged extra fees for receiving payments.
Their white-label program stands out because of the customization ability it gives the user to either co-brand as a third-party application or resell as one brand. You even have access to reseller insights that enable you to create and manage all merchants' stores seamlessly with a customizable and personalized dashboard. To make the process even simpler, Ecwid white-label website builder provides in-depth partner support with marketing and sales tool kits, training docs, and priority support for top tier members.
Pricing 💰
The Ecwid white-label program comes in 2 plans. The first one is the Silver membership plan, which goes for $299 per year and features a partner dashboard for store management, 2 demo accounts, regular support, Ecwid co-branded option, white-label option, and a 30% discount on subscription plans. The second plan is the Gold membership plan and it costs $899 per year and features a 45% discount on subscription plans, white-label WordPress plugin, 3 demo accounts, advanced control panel setup, priority support, store cloning feature, custom domain at $799 per year as well as a partner API for store automation management and setup.
Pros 👍
Ecwid provides sizable discounts.
You get enough customization flexibility with their White label program.
The co-branding option is available for users who don't want full control.
Ecwid enables automation with their API.
A white-label WordPress plugin is included in the Gold plan for free.
Cons 👎
You have to pay an additional $99 one-time fee for the white-label WordPress plugin and $999 per year for a custom domain with the Silver plan.
The store cloning feature isn't available in the Silver plan.
There is priority support only for the Gold membership plan.
It may be a bit expensive for small businesses.

Strikingly is one of the better-known solutions for white label website building on the market today. The company has been around for quite some time, with millions of professionals and creatives advocating the fantastic features. Strikingly aims to provide users with the simplest website editing experience they can get, and there are tons of ways to get involved.
The white label solution from Strikingly is a reseller and agency program that supports freelancers and companies in building stores and landing pages. The program offers a competitive bulk pricing strategy for companies that want to build many sites. Plus, you get access to the full editor suite and reseller tools too.
The reseller dashboard is co-branded, so you can add your spin, although you can't get rid of the Strikingly design entirely. You will need to show your customers that you're working with Strikingly, which might be a problem for some agencies. Strikingly is a good choice for digital agencies and freelancers who want to build quick profits, features include:
Simple site building with free hosting
No code or design experience needed
Robust functionality
Discount pricing
Extended pro trials
24/7 support
Excellent collaboration options
Pricing 💰
As you might expect, the pricing for Strikingly depends on how many sites you're going to build. Resellers need to commit to a minimum purchase of at least 20 sites to join the program, and you get those sites for a bulk price. Fortunately, there are a lot of features involved, including the option to offer eCommerce sites.
Pros 👍
Ecommerce and hosting built-in
No massive need for coding knowledge
Great discount pricing strategy
Tons of way to build customer loyalty
24/7 support and service
Cons 👎
Co-branding, so not fully white-labelled
Can be a bit expensive

Brizy is another classic website builder with a range of built-in white-labeling features. It's an all-in-one cloud-based and on-site solution for resellers wanting to leverage a competitive edge. In essence, it's a drag-and-drop visual website builder that doesn't require you to write a single line of code. For example, you can change your website's global fonts and colors with just a few clicks.
Brizy is optimized for mobile devices and comes with over 100 customizable templates to choose from.
Average page speeds on Brizy's server rival most dedicated hosting platforms, and you can expect an average uptime of 96%. You also benefit from domain masking and a client dashboard. Not to mention, all communications from Britzy to your clients are branded with your company's email address. You can also offer clients a logo builder and about and support links that appear under your brand.
Other notable Brizy features include:
You can create custom landing pages, popups, and page headers.
Access to collaboration tools – for instance, you can assign roles to team members and grant clients specific permissions.
One-click publishing
SEO optimization tools
Automatic content syncing between pages.
Access to a theme builder (to design your own WordPress themes).
Brizy's also integrates with big names such as WooCommerce, MailChimp, and Hubspot.
Pricing 💰
Brizy pricing is organized into WordPress and Brizy-hosted websites.
For WordPress, you can choose between a yearly and lifetime cost. You'll need the agency plan to access white-labeling features. For this service, Brizy charges $159 per year (based on annual billing). This package includes 500 websites and full white-label functionality. You can also expect one year's worth of VIP customer support.
Alternatively, if you choose to host your site on Brizy, you can opt for either monthly or yearly billing (yearly billing has a 20% discount). But, again, you'll need to choose their agency plan to access white-labeling. This costs $49 per month and enables you to host 100 sites on your domain. You also benefit from unlimited content storage and one year's worth of VIP customer support.
Pros 👍
Good range of integrations
Full white-labeling and customization
No coding required
Discounts on yearly and lifetime price plans
Ecommerce and marketing support
Cons 👎
White-labeling features are only available on the agency plans.
Costly for small businesses

Weebly is a great website building tool with branding potential for smaller companies and freelance website designers. The Weebly designer's system is intended for smaller companies. The platform comes with a backend dashboard that you can rebrand fully to suit your business, and there are absolutely no upfront fees to get you started.
With the Weebly Designer Platform, you can use the comprehensive Weebly back-end editor and get templates and hosting totally free of charge. You only have to pay when the site goes large, and you'll usually spend around $8 to $25 per month on the published site. Weebly supports designers in charging their clients higher fees so you can make a good profit.
The advanced website builder comes with a WebPro plan too, which is a subscription service that offers access to things like unlimited hosting, free SSL certificates and the options to create entirely branded websites. Features include:
Comprehensive code control for your website
Ecommerce support for stores
Shared admin access rights
Easy to use drag-and-drop builder
Custom client portal
Comprehensive client permissions
Entirely free hosting and SSL certifications
Great extra package options
Pricing 💰
As mentioned above, it's free to use the Weebly Designer platform if you're just accessing the basic features. You simply pay for the cost of hosting the website once it goes live. If you do want extra features, you can use the bonus WebPro solution for $30 per month.
Pros 👍
Excellent code and branding controls
Ecommerce support
Shared administration options
Lots of free features
Great client portal
Cons 👎
Not intended for larger companies

Finally, we come to Duda, an impressive solution for building an online store or your own website. There's a white label program available to team and agency users, which comes with a variety of fantastic white label tools, from a full version of the store builder to site preview screens for checking out your white labelling creations.
The URLs for these tools are delivered under the name of the creator, so you can rest assured that you're going to be able to maintain a great brand image. You can even access wholesale pricing options, so you can make the most of plenty of bandwidth and support when you're designing websites for clients around the world.
From the custom domain name options to a comprehensive client login screen where you can interact with your patrons, Duda has plenty to offer. You can even set easy editing elements for your clients, so they can adjust parts of their site alone. Features include:
Landing pages for lead creation
Permission and control elements
Email notifications
Website previews
Easy editing
Client dashboard for your customers
Client login screen
Custom website builder with branding
Plenty of guidance and FAQ support
Pricing 💰
Like many of the white label website builders mentioned here, Duda offers a free trial to help you explore the features before you dive in. After that, you can purchase functionality per site, or access support for your team for prices of $14, $22, or $44 per month. For larger companies, there is an option to create a custom plan.
Pros 👍
Excellent range of white labelled features
Client login and portal options
Range of easy to use templates
Easy editing and website preview
Email notifications and updates
Permission and control options
Great for team-based website building
Sell sites with your own domain name
Cons 👎
Lacking some high-level functionality
Some limitations in support

Simvoly is a website builder that promises a straightforward and reliable creation experience. You can design everything from eCommerce websites to sales funnels in one place. The white label builder allows you to go beyond the basics with things like SEO and design elements.
If you want to set up a store with all the functionality of Amazon, but you need to maintain a brand image, Simvoly could be the choice for you. This drag-and-drop builder is excellent for giving you full control over your web design, and you can really get into the smaller elements of website creation, perfect for agencies.
There are sales funnels included as part of your website design experience, and you don't need a lot of HTML or API knowledge to start building. Most of the technology needed to start selling online is included without the need for plugins too. Some of the features include:
Drag and drop website building
Lots of beautiful templates
Funnel creation with A/B testing
White labelled content
Ecommerce functionality
Built-in CRM
Memberships
Appointments and booking
Custom checkout pages
Pricing 💰
Simvoly is extremely affordable for agencies, with a free trial available to get you started. Once you've checked out the technology, and you're ready to invest, paid packages start from around $12 per month and range all the way up to $199 per month.
Pros 👍
Comprehensive white label package
Fees for agencies start very low
Lots of custom website options
Easy enough to operate with drag and drop builder
CRM and other unique features included
Useful for adding sales funnels to your business model
Cons 👎
Can be complicated in some areas
Not very well-known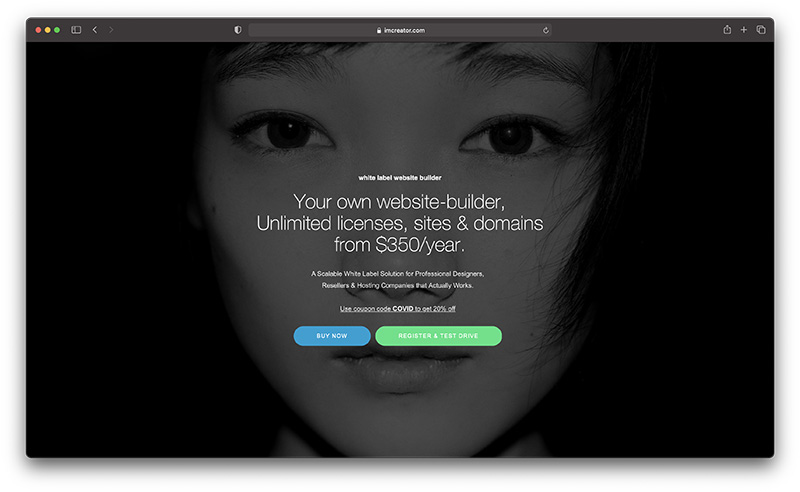 Another fantastic choice for companies creating custom websites, IM Creator will give you everything you need to design DIY websites. There are tons of CSS and coding choices, plenty of customer support, and various areas to add your own logo, or your own brand elements. You can start with a small initial investment and publish endless sites.
If you need more options with your site builder, such as cPanel options, and APIs, then you can access this through the "host it yourself" package. This solution is great for white labelling, and you don't need a ton of technical knowledge -though extra options are available.
IM Creator allows you to adjust your white label experience according to your needs. The drag and drop editor is extremely easy to use, and you get a range of great templates to start you off too. There's even app creation included. Features include:
Tons of beautiful themes and template
SEO support
HTML5 editing
Forms and eCommerce
Seasonal theme collections
Hosting and email options
Drag and drop editor
App creation
Pricing 💰
This white label solution from IM Creator comes with free initial trial to help you test out the features, then a premium account starts at $8 per month. You can access unlimited licensing and white labelling for around $350 per year.
Pros 👍
Great pricing options
Lots of editing options including widgets for social media
App creation
SEO support
Lots of great templates
Drag and drop functionality
Cons 👎
Can be an expensive initial investment
Finishing Thoughts
A white label website builder is an excellent tool for any agency or individual who wants to demonstrate their skills as a site creator. White labeling can help you to build a name for yourself as a designer or coding professional, while still giving you the functionality you need. There's no need to design every website from scratch when white labelled tools are there to help you.
Remember, many of the options mentioned above do come with their own free trial options, so you can check how the functionality works, without spending a fortune jumping between packages. Good luck finding the white label experience that's right for you.