Which email marketing solution is best for you? There are tons out there, but I'll focus on two of the most popular: Constant Contact and Mailchimp.
So, let's pit Mailchimp vs Constant Contact against each other to see which email service comes out on top.
Constant Contact and Mailchimp – A Quick Glance at Both
Mailchimp and Constant Contact are the go-to names for email marketing. They help businesses communicate with prospects, market products, and re-engage past customers through email.
Mailchimp is one of the best-known and most popular email marketing applications, used by 13m+ people. They offer free membership, and within minutes of setting up my account, I happily plugged away at my first email.
Its feature list is also rather impressive. The design of its email templates is clean and contemporary- as is its dashboard. Additionally, its analytics are worth a second glance, and it integrates with plenty of apps to boot.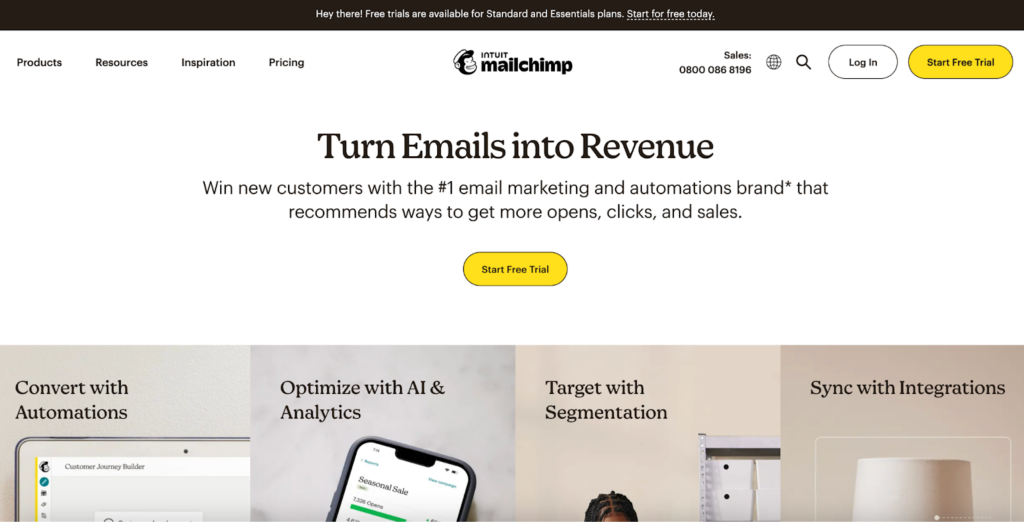 As for Constant Contact, it has fewer users than Mailchimp (600,000), but it's still one of the most popular email solutions out there. I set up my account in minutes, and the free trial doesn't require a credit card.
It has lots going for it and does many things well, but its email designs aren't as sleek as Mailchimp. That said, it's still a viable option (more on this below).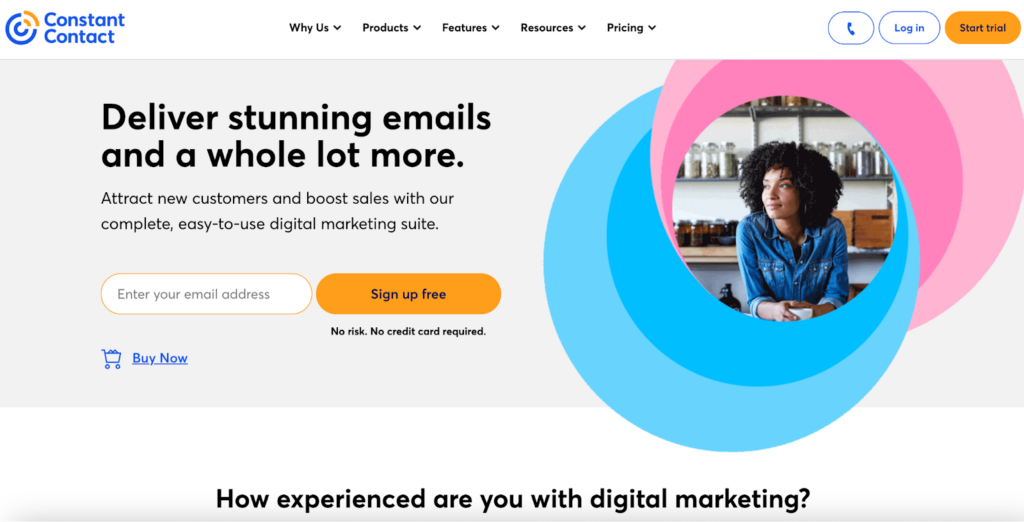 Mailchimp vs Constant Contact: Features
How do they stack up? We look at six crucial email marketing features and determine the best choice for each:
Email Marketing Automation
Mailchimp has excellent automation features that enable users to send personalized product recommendations and purchase follow-ups. In addition, you can set 'triggers'; for instance, if someone clicks on a specific link, makes a purchase, abandons their cart, etc., that causes a particular email sequence to go out.
On the other hand, Constant Contact lets you set up autoresponders and personalized emails. It also allows you to send automated emails based on how contacts interact with your emails. You can also segment contacts to automatically resend messages to non-openers. That said, compared to Mailchimp, fewer automation triggers are available, so you can't rely on very advanced automation flows.
Winner?
Constant Contact wins this round because it has more advanced automation features.
Deliverability
Mailchimp uses Omnivore, an abuse-detection technology. This predicts unethical practices in email campaigns before they're distributed. This contributes to its 92% deliverability rate.
Similarly, Constant Contact utilizes a spam check tool. This predicts whether your email campaigns will experience any deliverability issues. Constant Contact has a deliverability rate of 80%.
Winner?
Mailchimp. Its deliverability rate is higher.
Registration Forms
Mailchimp allows you to create unlimited, customizable, and embeddable sign-up and popup forms to help you build subscriber lists anywhere on your website.
Constant Contact also offers customizable sign-up forms and popups from which you can capture email addresses from your website. You can change the background color and font
of your forms, and you can even create a QR code that links to your form.
Winner?
Mailchimp takes this round because it offers more options for customization.
A/B Testing
Mailchimp provides A/B testing on all its plans (bar its free package). On its most expensive plan, it also offers multi-variate testing, which allows you to test more than one element of an email in a test run.
Like with MailChimp, basic A/B testing is available with all of Constant Contact's plans. But you can only test the email's subject line, and no multi-variate testing is available.
Winner?
Thanks to its multi-variate testing functionality on its most expensive plan, Mailchimp wins this round.
Design
Constant Contact offers more than 100 templates and provides a gallery of Shutterstock free and paid images to choose from.
Where templates are concerned, the same goes for Mailchimp. However, suppose you're on Mailchimp's Standard or Premium plan. In that case, you can buy additional templates from Mailchimp's Marketplace, with 47 extra to choose from.
Mailchimp also provides more customization options – specifically, users have greater flexibility over layout options and image placement. Although Mailchimp doesn't offer access to Shutterstock, you benefit from Giphy's GIF library.
Winner?
It's a tie. Constant Contact's image library is a bonus, while Mailchimp's greater design flexibility and GIF library are a huge draw.
Reporting
Mailchimp allows you to generate reports and interactive graphs detailing click-through rates, open rates, bounce rates, and other metrics. You'll also get insights into which email elements attract subscribers with Mailchimp's click map overlay, which tracks where people click in your email campaigns.
Mailchimp also offers email marketing statistics and benchmarks to compare how your emails performed against the average MailChimp campaign (Based on average click and open rate, bounces, unsubscribes, etc.).
Similarly, Constant Contact reports the number of opens, clicks, forwards, and more. You can also review the engagement of individual contacts, such as when they subscribed and how they interacted with your emails. Overall, however, these are merely the basics of email marketing reporting – no feature stands out in particular.
Winner?
Mailchimp has more advanced reporting than Constant Contact.
Integrations
Mailchimp has over 320 integrations, including notable website builders, social media platforms, ecommerce platforms, etc. For instance:
Shopify
WooCommerce
SalesForce
Facebook
Twitter
Instagram
Pipedrive
WordPress
QuickBooks
Cazoomi
In contrast, Constant Contact has about 5,335 integrations some notable names include:
Shopify
Eventbrite
Canva
Zapier
DonorPerfect
Eventbrite
Facebook
SalesForce
QuickBooks
HootSuite
WordPress
Winner?
MailChimp and Constant Contact have an excellent range of integrations; in both cases, you can search by category. But, based on numbers alone, I'm giving this one to Constant Contact.
Ease of use
Constant Contact has been created with simplicity in mind. Its drag-and-drop email editor is straightforward to use. Searching for relevant integrations and email templates is also a breeze. All in all, I think small businesses unfamiliar with email marketing will pick it up quickly.
Similarly, Mailchimp's dashboard is clean and easy to understand. It also has an intuitive drag-and-drop editor to simplify email customization.
Winner?
Both platforms are easy to use, so it's a tie!
Customer Support
Mailchimp offers a comprehensive knowledge base with helpful guides and articles. Alternatively, you can contact the team 24/7 by email or chat support if you're a paid user (those on the Premium plan get priority and phone support too). However, free plan users only get email support for the first 30 days.
In contrast, Constant Contact offers email support and live chat Monday to Friday between 3 am and 10 pm (9 pm on Fridays). In addition, phone support is available with any paid plan from Monday to Friday (8 am to 10 pm) and Saturday (10 am to 8 pm). You can also use their knowledge base as a reference point.
Winner?
Although both platforms offer live chat and email support, Constant Contact takes the lead this round thanks to its phone line.
Pricing
Where Mailchimp is concerned, the higher the number of contacts you have, the more expensive each paid plan is. There are also separate plans for websites and commerce. In addition, you can purchase credits for transactional emails (which aren't included in the paid plans below).
For the purposes of this review, we're just sticking with the marketing plans.
Pricing below is based on an email list of 500:
Free plan: up to 500 subscribers and lets you send 1,000 emails monthly. You can also generate reports and benefit from sign-up forms, email templates, single-step automation, and 30 days of email support.
Essentials plan: Free for the first month based on 500 contacts. After that, you're charged $13 monthly for all the above plus 5,000 monthly email sends, three users, 24/7 support, A/B testing, assisted onboarding, and more.
Standard plan: Free for the first month based on 500 subscribers. After that, it's $20 monthly for all the above, plus 6,000 monthly email sends and prebuilt automated customer journeys.
Premium plan: Starts at $350 monthly based on up to 10,000 subscribers. You receive all the above, plus 150,000 monthly email sends, phone and priority support, comparative reports, advanced testing, and support for high-volume sending.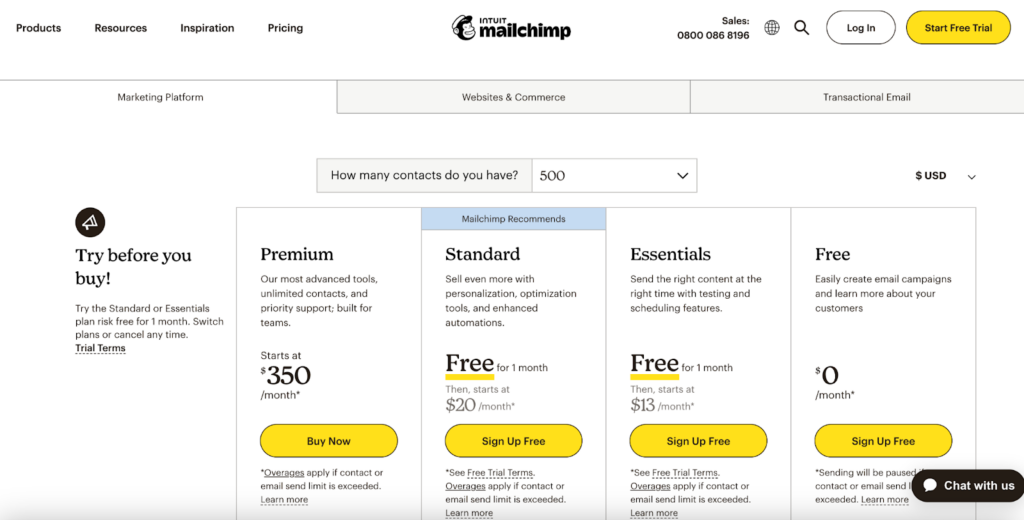 Constant Contact offers email and digital marketing plans and plans for lead gen and CRM. Again, for the purposes of this review, we'll stick to email-related pricing plans, which are as follows. It's also worth noting that, like Mailchimp, the more contacts you have, the more each plan costs. Both plans also offer a pay-as-you-go option for infrequent senders.
After one month free, prices are as follows for a contact list of up to 500:
Core plan: Starts at $9.99 monthly. This includes five users, email marketing, an automated welcome email for new contacts, unlimited emails, 1GB of file storage, reporting, and contact management.
Plus plan: Starts at $45 monthly. In addition to the Core plan features, it provides unlimited users, Google ad integration, email newsletter archive, advanced automated email marketing features such as abandoned cart emails, 2GB file storage, coupons, polls, and surveys.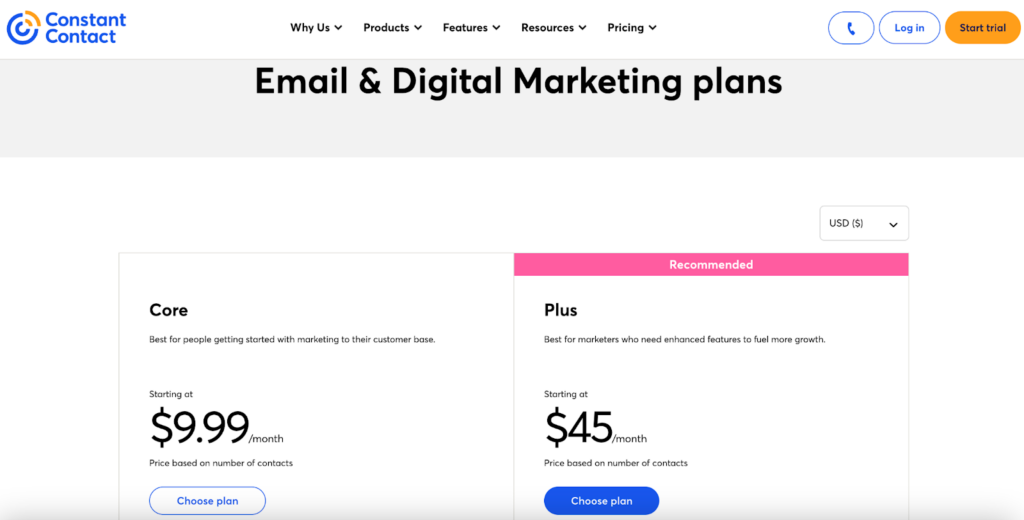 Winner?
Mailchimp wins. It offers more plans, and its freemium package is handy for businesses on a tight budget.
Mailchimp vs Constant Contact: Pros and Cons
We've covered a fair amount of ground, so let's condense some of what we've spoken about into a quick pro-cons list:
Mailchimp Pros and Cons
Mailchimp Pros 👍
Mailchimp's reporting is pretty impressive, including geo-tracking and Google Analytics integration.
Its free plan offers up to 1,000 monthly emails for 500 subscribers, which is generous.
Mailchimp has advanced automation features that enable you to send purchase follow-ups and personalized product recommendations.
Mailchimp Cons 👎
Advanced features, like multi-variate testing, are locked behind the more expensive premium plan.
Some users grumble about the quality of customer support
Constant Contact Pros and Cons
Constant Contact Pros 👍
Constant Contact's customer support offering is excellent
It's easy to use and quick to set up a campaign once you have an account
There's a very generous 60-day free trial
Constant Contact has hundreds of email templates to choose from
Constant Contact Cons 👎
Constant Contact has minimal automation, A/B testing, and reporting capabilities
It's relatively expensive for the contact numbers and features offered
Overall Winner
Mailchimp is the winner for its ease of use, advanced features, and customization freedom. For instance, it offers more advanced A/B testing on its more expensive plan and more sophisticated email automation even on cheaper plans. It has a free plan and lower-paid options compared to Constant Contact. However, the latter's free trial is the more generous.
Top Alternatives to Mailchimp and Constant Contact
If you find that Mailchimp or Constant Contact aren't doing it for you, below are some great alternatives to look into.

Sendinblue has improved its feature set to become a solid alternative to Mailchimp and Constant Contact. Some of its stand out features include transactional messages, SMS, IP plans, conatct management and a wealth of automated messages.
It comes with a free plan that lets you send 300 emails per day to unlimited contacts. This is followed by the Lite plan that costs $25 per month and the highest plan goes for $66 per month. Furthermore, SendinBlue offers the Enterprise plan for businesses with more specific needs.
👉 Check out our Sendinblue review for more information on what you get from each pricing option.
Pros
It offers an SMS marketing tool
SendinBlue provides solid email automation and transactional email features
Cons
Setting up an account comes with some few quirks due to an outdated user interface
Compared to popular email marketing solutions, its integration options are limited

HubSpot just launched a free version of their email tool. This is fantastic news because you can now combine the power of email marketing with HubSpot's powerful CRM so your emails are personalized for each recipient.
The drag-and-drop editor allows you to quickly draft email campaigns that both reflect your brand and feel professional. But even if you aren't too keen on design or if you're running low on inspiration, you can easily get started with one of the many goal-based email templates available.
Once you've crafted the perfect email, you can insert personalization tokens that will auto-populate using any of the information you have stored in your CRM for each one of your recipients. Personalizing your emails gets you higher open and click-through rates.
The built-in A/B tests and analytics will allow you to measure and maximize the impact of your outreach.
Try HubSpot Email Marketing for free
Pros
Send up to 2,000 emails a month for free
Comes with a free CRM and many list segmentation options
Powerful personalization features
Drag and drop editor
Cons
A/B testing and automation are paid features

AWeber is among the leading giants when it comes to email marketing. It comes with most of the features you need, its deliverabilty rates are great and it takes into consideration the less tech savvy users by making it easy to create enticing sign up forms without coding.
In addition, it comes with a wide range of messaging options as well as a visual builder to eliminate the need for backend editing. When it comes to pricing, AWeber's lowest plan costs $19 per month while its highest plan goes for $149 every month. It also includes a 30-day free trial period to sample its feature offerings.
👉 Read more on its pricing options in out detailed AWeber review.
Try Aweber risk-free for 30 days
Pros
Extensive reporting capabilities
Visual builder feature lets you edit changes without going to the backend interface
Cons
Lacks Google Analytics integration

Klaviyo is a powerful yet easy to use email marketing solution. List segmentation is where it really shines. Using Klaviyo, you'll get default lists that separate engaged subscribers from those who only find your newsletters appealing. Similarly, you can combine and exclude different segments for powerful targeting.
It also comes with impressive drag-and-drop elements including social links, split columns and images. Another cool feature is that the triggered emails or flows can be designed based on real-time behavior from your online customers.
Klaviyo's pricing system is based on the number of your email contacts. Paid plans start at $25 per month for up to 500 contacts.
👉 To get a gist about this works, check out our Klaviyo review.
Pros
Impressive list segmentation options
Easy visual builder
Strong marketing automation capabilities
Cons
Its complicated to get set up
Data migration is stressful

GetResponse offers most of the important features you'd require in a professional email service provider. You can expect list segmantation, image hosting, template editor, social media marketing, automation, A/Btesting and Goggle Analytics integration.
Some special features it brings include their landing page editor as well as video-based email marketing support. GetResponse also offers a QR code generator and proprietary apps for iOs and Android mobile platforms.
Its lowest pricing plan is called Email and costs $15 per month. This is followed by the Pro plan that goes for $49 per month. Next is the Max plan that costs $165 per month while the highest option is the Custom plan and it goes for $1199 per month.
👉 Read more on its pricing plans in our in depth GetResponse review.
Try GetResponse risk-free for 30 days
Pros
Powerful list automation capabilities
It offers the landing page editor
Cons
Its templates need to be updated for a modern look
If you still don't think either tool is right for you, then there are many other Mailchimp alternatives to consider too.
Mailchimp vs Constant Contact: The Bottom Line
Either one of these services will allow you to mount a successful email marketing campaign. They both have the basic tools to help you get started, and they are both pretty intuitive. Mailchimp is cheaper for people just starting out compared to Constant Contact.
Constant Contact has great customer support, so you won't have to worry about getting stuck when you're just starting out. Remember, both of them have free trials or plans, so there is nothing stopping you from testing out each one before you commit.
However, I have to say that either service provides is pretty intuitive and provides all the basics you need to mount a successful email marketing campaign.
That's all from me, folks; which email marketing platform are you swaying towards? Let us know in the comments box below!
Mailchimp vs Constant Contact
Rating:
5.0
- Review by
Rosie Greaves.