On average, online stores manage to convert just 3% of their visitors into customers. That's just 3 sales out of 100 visitors.
Now, getting all these visitors on your website takes time, and costs money. How you wish you could have had at least 5 – 6 sales out of 100 visitors that land on your website?
And while an average store owner will stop at wishing, the smart ones will go and do something about it. Something like following up these visitors with customized ads and offers, everywhere they go on the World Wide Web. Sounds cool?
That's retargeting for you. It allows you to engage and reclaim the visitors who leave your store without purchasing anything.
Retargeting can produce great results because the targeted customers have already shown some interest in your products. Converting a partially interested visitor is easier than trying to persuade someone from scratch. Such customization and precise targeting is hard to achieve in any other form of marketing.
Remarketing vs. retargeting
Retargeting is the more commonly used term, however Google Adwords uses "Remarketing" for its "Retargeting" feature, so both of these terms kind of overlap each other in almost all respects, and you don't need to get confused by the name.


Coming back to the topic, remember that the benefits like higher ROI or brand lift are only possible when the campaigns are managed correctly. A poorly managed campaign will only fritter away your marketing dollars with no returns at all.
So, we have compiled a list of best practices for ecommerce stores to help you make the most of Retargeting.
Targeting the Right Segments
Retargeting services like Google Adwords or Adroll allows you to retarget your website visitors by using an anonymous browser cookie. As soon as a visitor lands on your website, he is added to your retargeting list. So, the default retargeting list consists of all the visitors on your website. But that's not necessarily the best way to go about it.
Different lists for different types of visitors

Different lists for different types of visitors
The main strength of retargeting lies in the precisely customized ads that you can use to engage your target users. But you need to divide the site visitors into specific segments before coming up with customize ads. A visitor who was in the later stages of your purchase funnel needs to be targeted with more specific ads than someone who leaves from the homepage.
Choose your audience segments tactfully, because it can make or break your entire campaign.
The Right Frequency
Just because some users have visited your website just once, it doesn't give you the license to stalk and follow them with retargeting ads forever. Not only it will annoy the target users, it will also be a waste of money. So it's important to know when and where to stop.
Frequency cap allows you to set the limit for targeting a user with retargeting ads. Experts recommend keeping it in between the 15 – 20 ads per user limit but you can set a limit while keeping in mind your target audience, market, and the specific segment.


Invest on Your Creatives
The advice holds true for all types of PPC campaigns, but when it comes to retargeting, the design and copy of your ads becomes even more important.
The creatives are the focal point of your retargeting campaign, and you need to invest some time, money, and whatever else you have on coming up with the perfect creatives, except that perfection is almost impossible to achieve, and that is why A/B testing becomes so much more important.
Don't rely on your gut feeling, test different designs, color schemes, text, and images. Remember that it's important to rotate your ads, or your target users will get accustomed to the extent of becoming oblivious to your ads.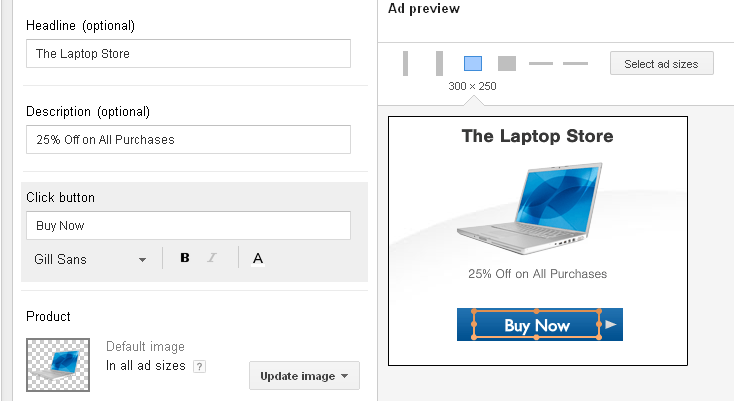 Post Conversion Retargeting
They say, stop preaching to the converted. But while you need to stop advertising the same product or offer once they have purchased, you cannot simply forget these users.
Instead you need to create a separate list, and reach out to them with slightly different ads. For example, you can try to up-sell or cross sell other products. You can also entice them with special discounts or deals to transform one-time buyers into loyal customers.
You can create a new list by using a pixel at your thank you page (or any other page where the customer will land after completing an order), and then excluding these customers from retargeting list.
Seasonal Marketing
Make the most of events like Christmas or Halloween by aggressively targeting users who have purchased in the previous season.
For maximum impact, use sequential promotions during the buildup to these events, for example a 10% discount before 1 month, 20% discount before 2 weeks, and a massive 30% discount when there's just 1 week left.
You can also retarget customers based on occasions like Birthdays or Wedding Anniversaries (you will need to have specific sections or categories (e.g. Birthday gift category) to tag and create a list of such users).
Bonus Tip: In case your retargeting list is not big enough to do seasonal or occasion based promotions, you can use the ever-reliable email for remarketing purpose.
Dynamic Remarketing:
Dynamic Remarketing can take retargeting to a different level altogether. It allows you to engage your customers with ads featuring the same or related products that they have been browsing at your store.
You will need to create a Google Merchant account and the learning curve is slightly more demanding than basic remarketing, but when done right, dynamic remarketing can be an extremely successful maneuver, and it's worth all the time you will spend on learning and setting up.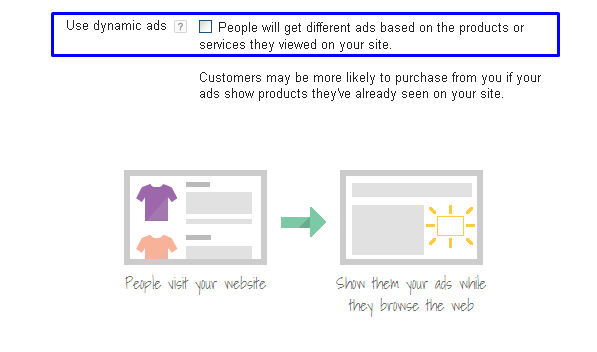 Branding:
While it's important to include the specific products or offers that will catch the interest of your target customers, it is important to remember the branding part.
The idea is to ensure that your brand stays on top of their mind, so even if they are not purchasing at the moment, they will still remember and recall your brand when they are about to purchase. In most cases, a store logo in all of your ad units will do the job.
Facebook Retargeting:
Retargeting platforms like Adroll, Retargeter or Perfect Audience allows you to serve retargeting ads while your target customers browse their Facebook accounts.
Imagine, your product ads or offers appearing in their news feed? Unlike a click on display ad that will take them to your website, getting a "Like" at Facebook will result in free promotion because it will appear in their contacts' timeline. Very few advertising medium can go through their trust barriers like that.
Feature image curtsey of Matt Stevens