Shop Pay is all about guiding potential customers through their path to purchase and generating more sales. Shopify Pay is a convenient payment button that you add to your checkout process. This solution manages payment information for your Shopify store using Stripe. This is the tool that helps countless huge companies to handle payments.
Today, we're going to introduce you to all the benefits of Shop Pay, and why you should consider using it for your own online store.
Let's start with the basics.
What is Shop Pay?
Shop pay is a convenient payment method and checkout solution for customers on a Shopify store. This handy little tool allows customers to save credit card information, along with other data. For instance, your customers can add their shipping address and billing information, for a faster checkout next time they buy.
The accelerated checkout system from Shop pay ensures that your customers can process payments faster, which means that you end up with more repeated purchases. All the customer needs to do to access Shopify payments, is enter their email address.
Although you can speed through Shop Pay's payment process with a phone number, there are limits to this. Customers using phone numbers won't have the option to save their information.
Shop Pay comes with a bundle of awesome features to explore. Aside from saving your customers heaps of time when they check out, Shop Pay also comes with features like local pickup and delivery options. Customers and businesses can also rest assured that information is safe and private. Billing and shipping information stays on Shopify's PCI ready servers.
You don't save any information on your store, so you're less at risk of issues with compliance regulations.
Try Shopify with $1 per month for the first 3 months!
Shopify has begun offering a special deal for sellers who sign up for a new Shopify plan. That deal? Pay Shopify $1/month for 3 months of full access to the platform!
This offer is is now available on all standard plans: Starter, Basic, Shopify, and Advanced.
How Does Shop Pay Work?
Shopify Pay, or Shop Pay is a very straightforward solution, which is excellent for both you and your customer. All your customer needs to do to make their purchase is click on the branded button for Shopify on your checkout page. The user will then enter all shipping, credit card, and billing information.,
After your customer enters their number and links the account they want to save, they'll be ready to checkout faster next time. Shop Pay ensures that whenever your customer logs into your store again, they can simply authorize their purchase without having to enter all of their details again.
For security purposes, your customers will need to receive a text message that includes a verification code. This 6-digit code will allow users to authorize their payment safely. Crucially, this means that all customers do need to enter their mobile phone number to complete their shopping experience.
Fortunately, because all data for Shop Pay remains on compliant servers, your customers can rest assured that you're only using their phone number for SMS verification and payment options, not for anything else. This leads to a better overall customer experience.
The basic Shop Pay features make for a rather intuitive shopping experience, but there's much more to it. To answer the question of "how does Shop Pay work?" it's best to go over all of its features.
Here are the primary features (for online shoppers) to give you an idea of how it all works:
A Cart Filler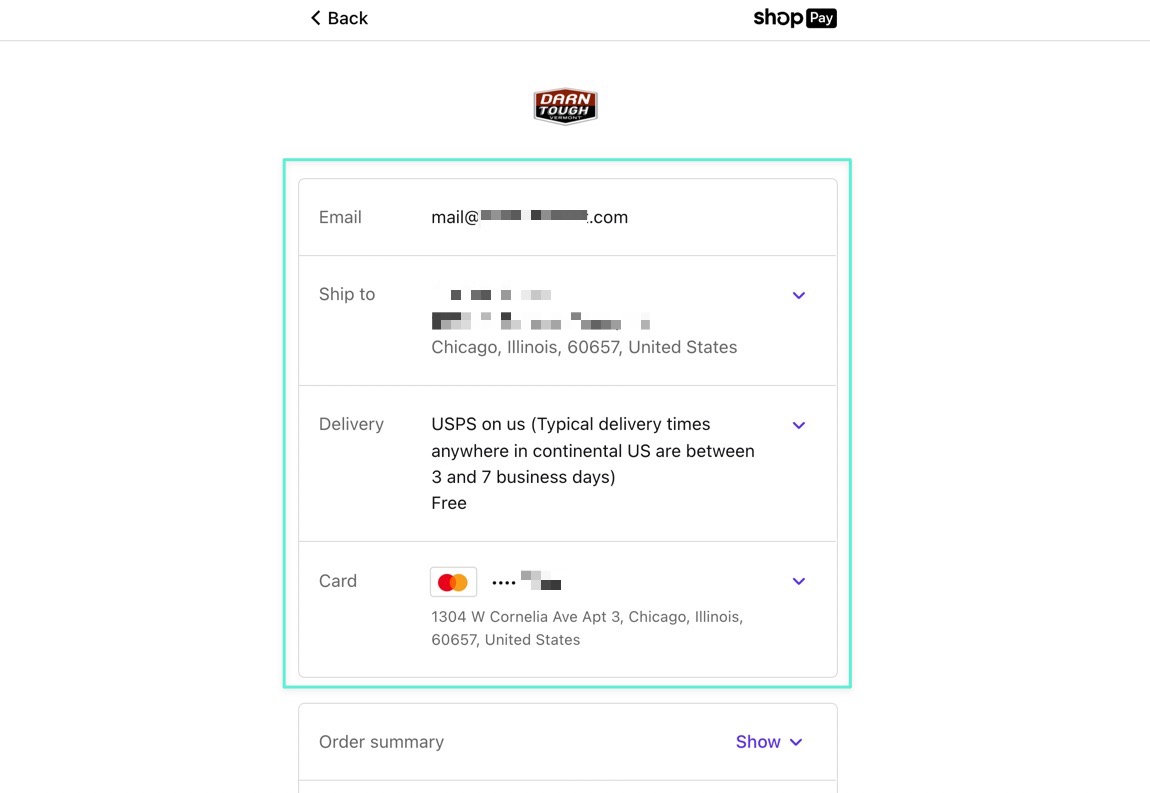 The whole point of Shop Pay is to speed up the checkout process for all online customers. Therefore, users only have to type in payment information once; after that, the tool automatically recognizes your profile when visiting a participating online store.
All previously entered billing information is encrypted and saved so that customers only have to click one Buy Now button to fill in a checkout form, eliminating the need to pull out a credit card or even type in your name.
Paying in Full or with Shop Pay Installments
Perhaps one of the most exciting features from Shop Pay is how the customer can choose to either pay in full at the moment of purchase or spread it into multiple payments.
Here's how it works:
The customer picks Shop Pay Installments.
They get to choose to make four equal installments instead of one full payment.
The customer selects a debit or credit card to pay the first payment and future installment payments.
The account walks customers through a brief identity verification process to pay later. Eligibility is more about preventing fraud. They don't check credit scores.
The customer agrees to terms, authorizes the payment through Shop Pay (Affirm handles their installment processing).
For security, the app texts the customer a 6-digit verification code to complete the process.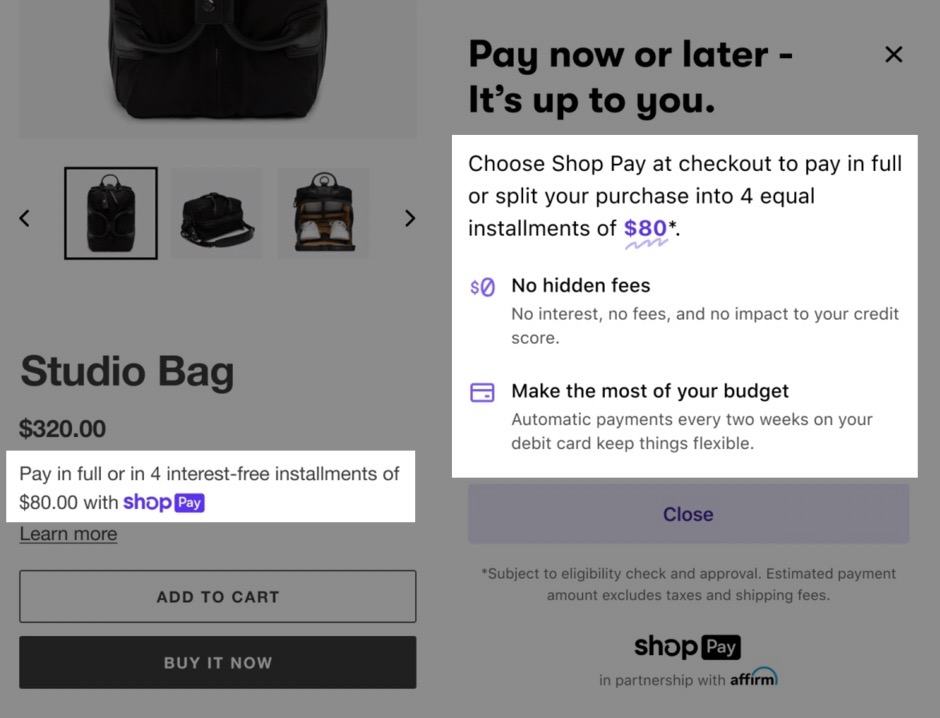 What about late fees?
Shop Pay installments don't work like a credit card. There are no fees, penalties, or additional charges to break a payment into installments. It's possible to make early payments through the same checkout page but, unlike credit card payments, they don't charge a fee if you miss a payment. However, you may get restricted or banned from Shop Pay installments if you make a partial or late payment.
What Qualifies a Transaction for Shop Pay Installments?
In order to have the option for Shop Pay Installments (where you pay four equal installments instead of one lump sum) the transaction must be between $50 and $3,000 USD. This amount includes taxes, shipping, and discounts.
Transaction Auto Logging for Past Orders and Receipts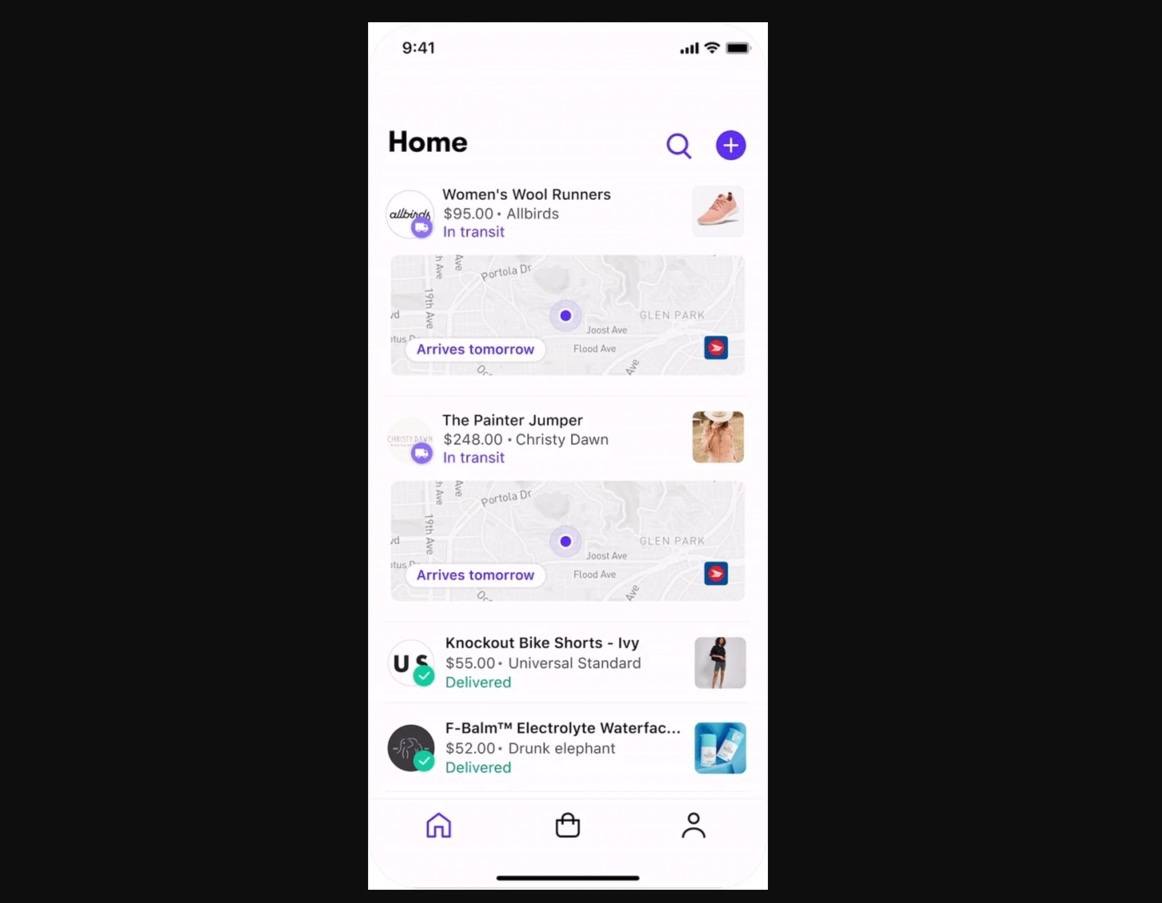 Shop Pay logs all past orders. That means online consumers can go back in their history to see the items they've bought, how much it all cost, and where the products came from.
The history module also organizes orders and gives users quick search and filter tools to find things immediately. Not only that, but you can find detailed receipts as well.
Returns and Customer Support with the Click of a Button
Shop Pay is primarily designed to help online shoppers. So, it's not directly connected to any store you visit. However, it recognizes the store you're currently shopping on and links you directly to online resources, FAQs, customer support links, or whatever the merchant provides. You can ask the seller a question with a quick chat, ask for a return, or view a shipping policy from the convenience of the app.
Customized Shopping Recommendations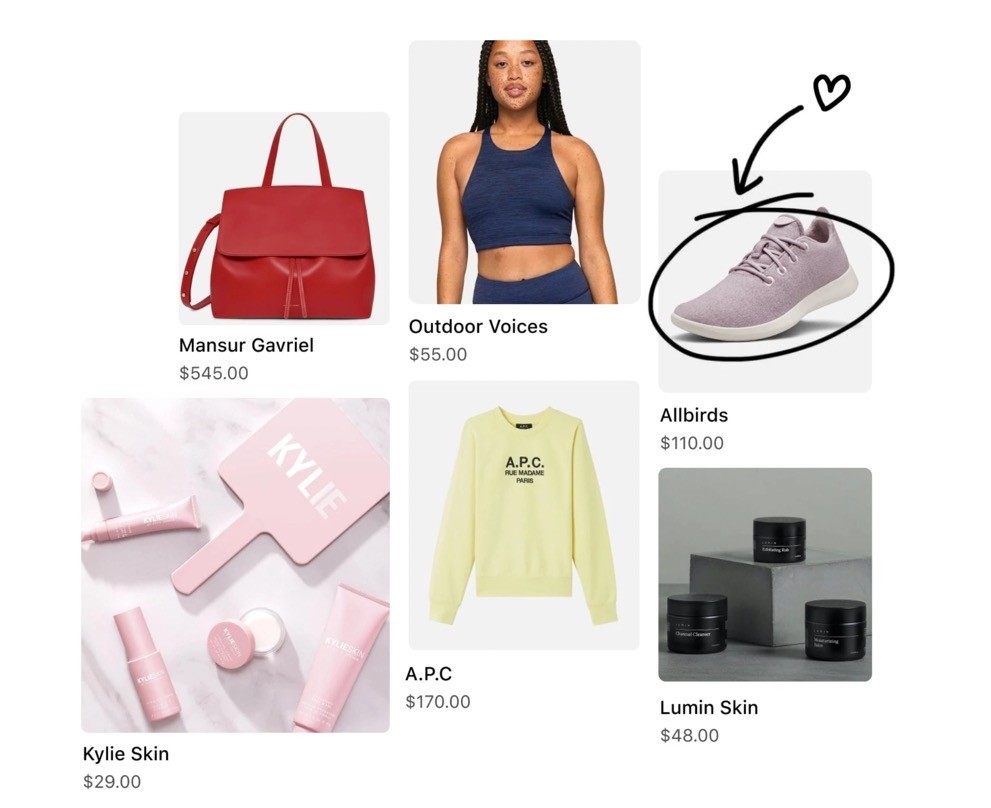 Online shopping recommendations tend to come with a lot of baggage (like how Google tracks everything you do online then sells stuff to you). That doesn't seem to be the case with Shop Pay. Instead, the tool works with a combination of data, some of which is found by asking you directly (where do you like to shop?) and some of which is pulled from your shopping habits. So it's kind of a hybrid, and Shopify states that they never send spam or maliciously track you in order to push more advertisement.
With this information, the app presents a simple, customized feed made just for you. You'll see recommendations from your favorite shops, deals from related shops, and trending items that you may like as well.
Local Shop Searching with In-Store Pickup and Delivery
Another way to personalize your feed is to use the Shop Local functionality. This essentially allows you to search for local businesses or specify the local businesses you like to shop from. Customers can either buy from the retailer's online store (with delivery) or opt for in-store pickup.
And here are Shop Pay's merchant-specific features:
Marketing Automations to Improve Repurchase Potential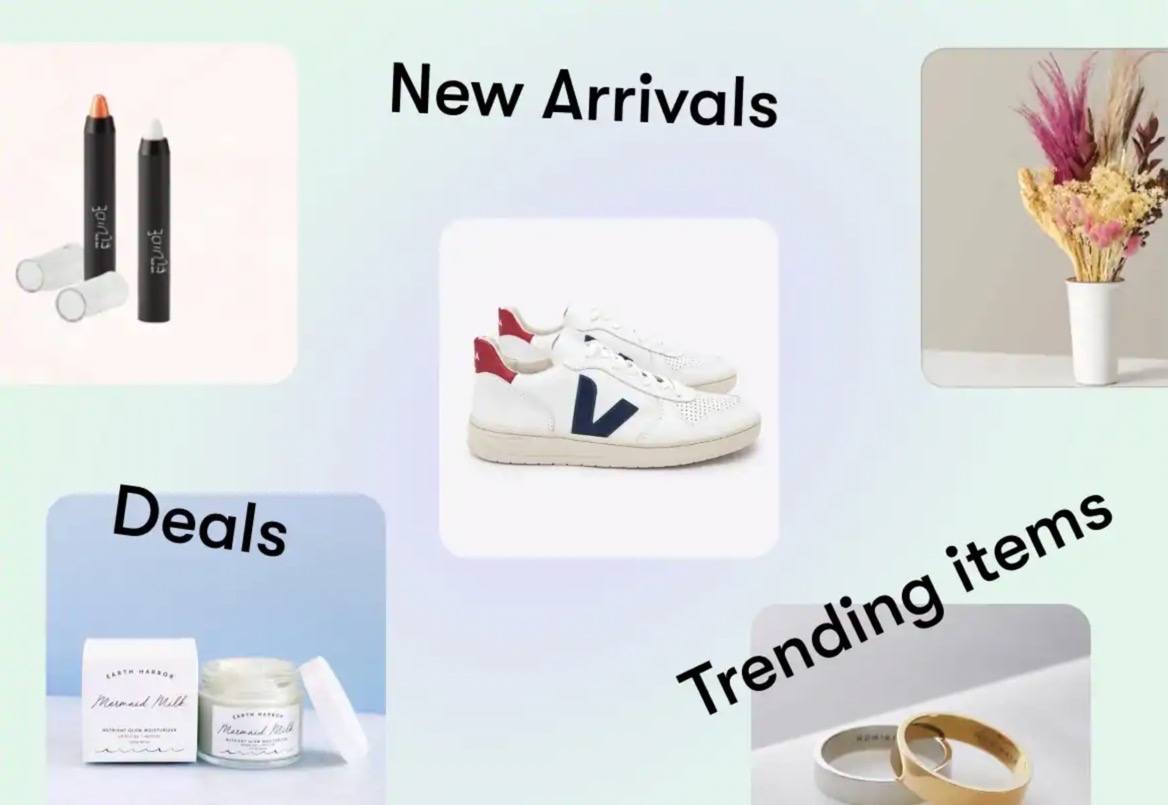 When it comes to the standout features for online merchants, we'd definitely start with the marketing automations. Standard Shopify checkout modules allow for plenty of marketing options, but Shopify Pay makes it even more interesting.
Shop Pay is already active on customer devices (with their payment information saved), so merchants can implement automated marketing messages before, during, and after the transaction.
Some of these marketing automations include:
Shipment tracking notifications with links to other products
Trending product notifications
New arrival messages
Hot deals
Shipment notifications with recommendations for other products
Post purchase offers to bring customer back
Overall, this tool offers several marketing options that combine into a streamlined system for boosting conversions and repurchases.
Performance Tracking
Tracking in Shop Pay (for merchants) looks into the efficiency of your sales, taking into account the speed at which people make purchases, how much your conversions increase, and how well you're able to get products to customers in a reasonable time.
This all builds trust and makes your business far more transparent.
Tracking features are sent to both the merchant and customer, with tracking messages for when:
Orders are processed
Orders are sent
Orders receive a tracking code
Orders arrive
Complete Checkout and Store Customization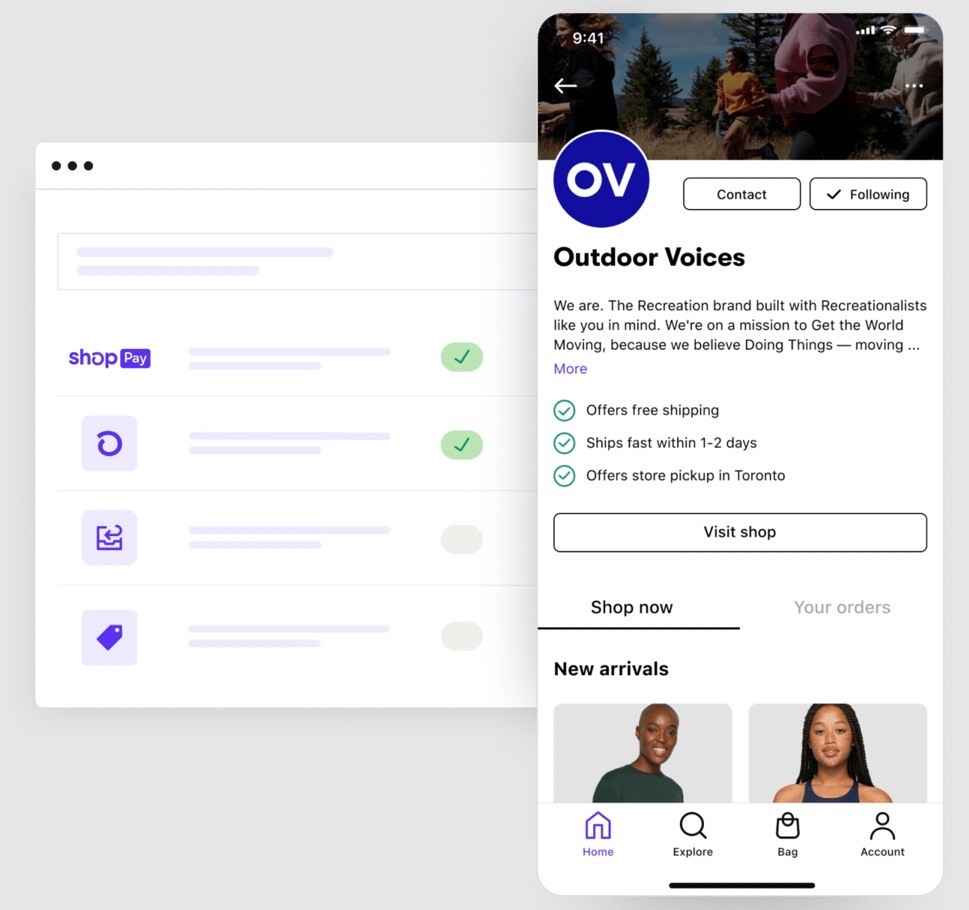 Merchants get to choose what the checkout experience looks like and what gets offered to customers. For instance, sellers can choose to offer free shipping, fast shipping, or in-store pickup. You can also opt to reveal certain products, share recommended items, and have a module for customers to see their past orders.
Along with that, it allows you to customize elements like your customer support resources, contact methods, store description, and the images that appear on the shop, like your logo and cover image.
A Shop Pay Button to Place on an Online Store, Facebook Shop, or Google Shopping Page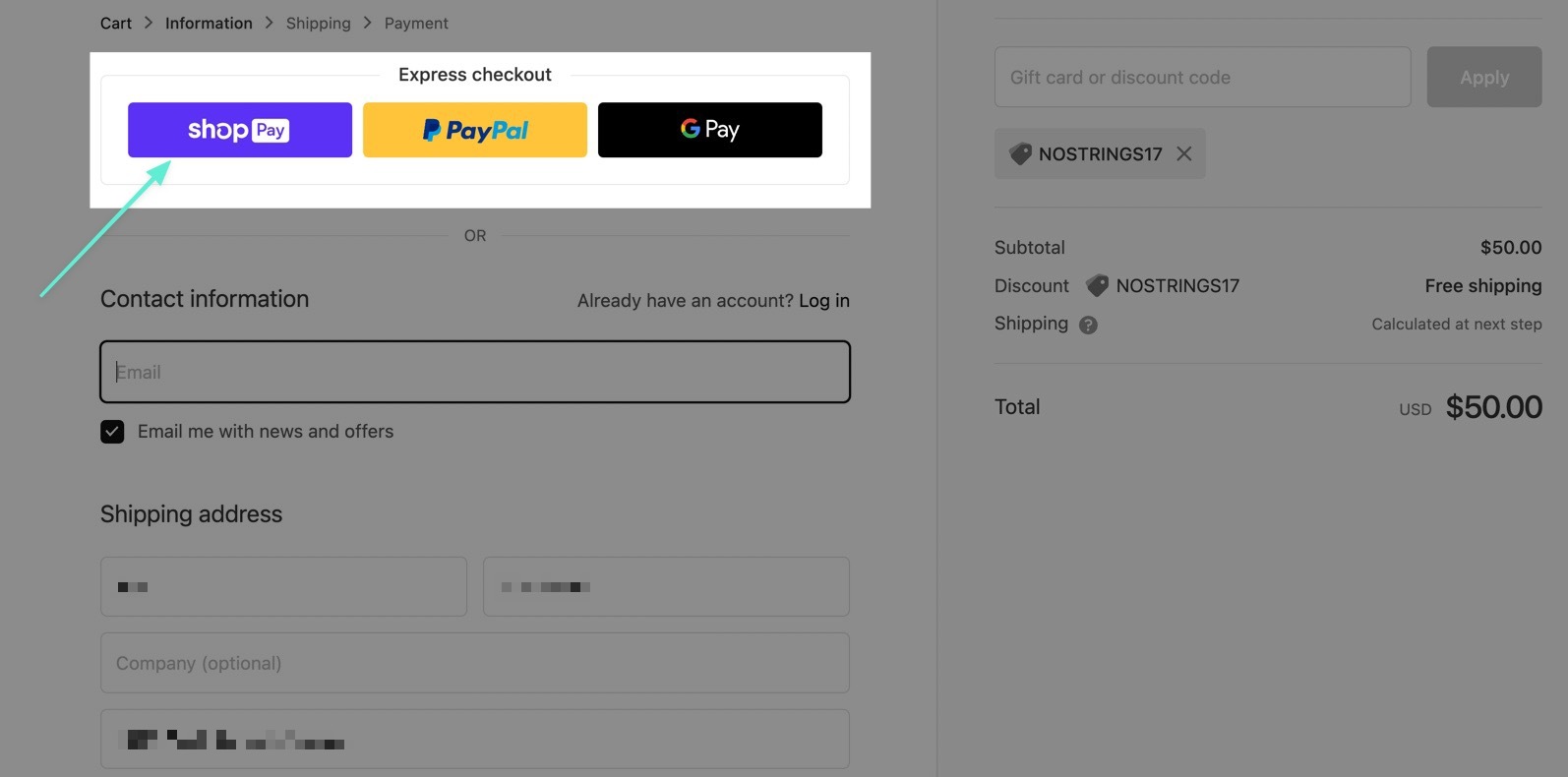 As a Shopify product, you'd think merchants would need a Shopify store to use Shop Pay. That's not the case. Although it was in the past, Shopify eventually expanded its support beyond Shopify merchants, meaning that even non-Shopify customers can add a Shop Pay button for selling on Facebook, Instagram, and Google.
When it comes to using the payment option on a different ecommerce platform, you're still limited to Shopify.
For Shopify merchants, you can install the quick Shop Pay button as an alternative payment method, allowing you to use Shop Pay on your ecommerce store, and whatever social shopping tools you sell through (like Facebook, Instagram, or Google).
A Mobile App to Manage Tracking Notifications, Shipments, and Marketing
We already covered tracking notifications, shipments, and marketing, but it's worth mentioning that all of these get merged into a sleek mobile app, allowing you to manage all facets of your business through the Shop Pay merchant app. So, handling customer support becomes easier while on the go. There's no reason to be at your desktop computer whenever you need to complete a task.
Get Featured on Curated Lists
Shop Pay presents users with curated lists, recommended products, and local shopping opportunities on a regular basis. It also serves as a way for online businesses to reach new customers.
Merchants can take advantage of the strong marketing potential this brings about, considering Shop Pay already caters to over 100M shoppers around the globe. Your store gets looped into these recommendations based on what people buy, so it works regularly to ensure your business gets the exposure it needs.
Is Shop Pay Safe?
It's not always easy to know which payment options and checkout solutions merchants should offer on a website. You want to make sure that you're creating a simple experience for your customers. However, it's also important to ensure that you're keeping your bills low and reducing the amount of effort required on your side too. The same can be said for customers; is my payment information safe if I purchase through Shop Pay?
Based on our research, Shop Pay is very secure.
Thanks to things like SMS text verification, PCI compliance, and encrypted financial data, customers and merchants get several layers of purchasing security. That's important in a world where your customers are trusting companies online less than ever. The added layer of security means that shoppers and merchants can enjoy more peace of mind when they interact.
The processor even handles all the payment security elements on behalf of merchants. There's no technical expertise necessary. This makes Shop Pay an excellent choice for companies that don't want to hire their own developer to make their website suitable for customers.
What is a Shop Pay Code?
A Shop Pay code is the 6-digit code texted to a user's phone to verify their identity for a purchase. This code is essentially the piece that allows the app to make transactions for users take only a few seconds. Customer data is already stored and encrypted within the app; all that's required is to verify the user's identity, so each transaction sends a 6-digit code to that shopper. They then type it into the checkout screen to process the transaction, eliminating the need to type in anything else, such as the credit card number, customer name, or shipping address.
Here's what a Shop Pay code looks like when sent to your phone as an SMS message: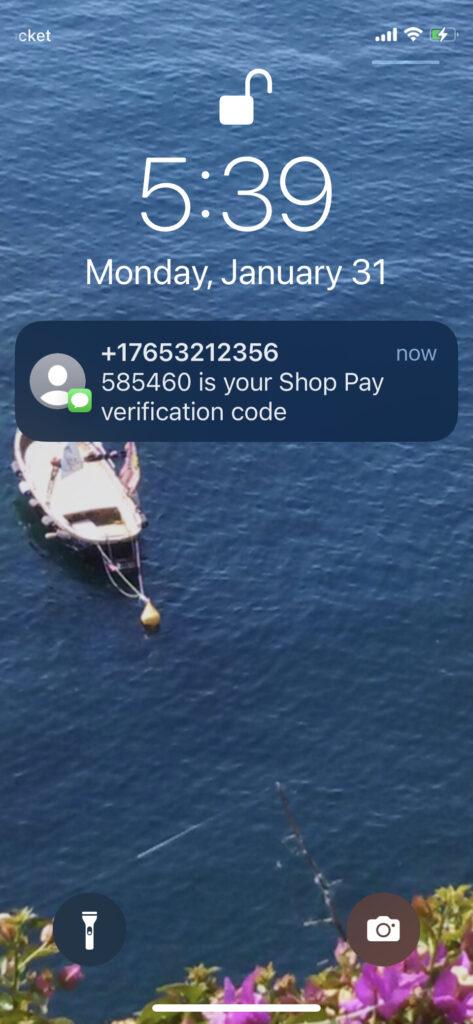 After which, users can type the code into the authentication field (which appears in the store you're currently shopping at).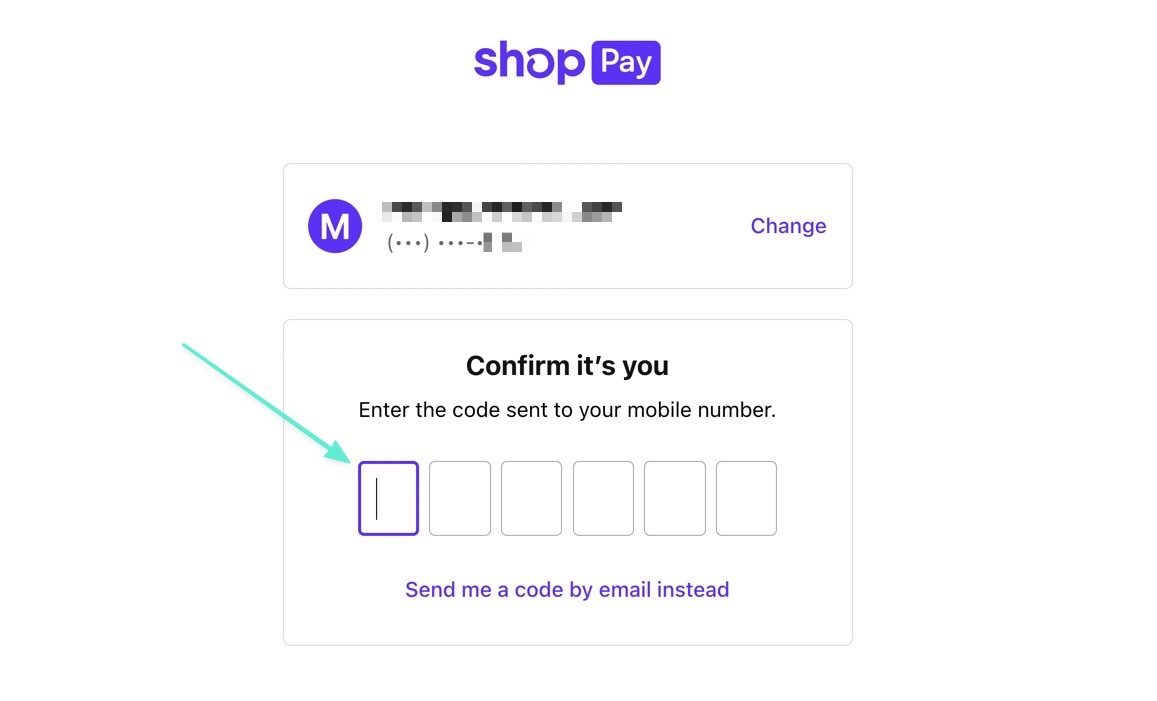 Then, it fills in all necessary payment information and processes the transaction.
Note: You can also send the Shop Pay code to an email address instead of your phone.
Shop Pay vs Shopify Payments
If you're familiar with Shopify as an ecommerce platform, then you'll know that Shop Pay isn't the only checkout option the company can offer. Shopify provides a variety of payment platform solutions for taking credit and debit card payments.
Shop Pay is all about speeding the payment process along. If you want to help your customers make multiple payments fast, then Shop Pay will help with that. Your clients can save their credit card information and other crucial details, so all they need to do is enter a verification code.
Crucially, Shop Pay isn't the same as Shopify Payments. Shopify Payments is a checkout option that gives you the opportunity to take payment from your customers in a way similar to PayPal. There's no option to save payment information for the future. However, Shopify Payments has its own benefits, like saving you some cash on transaction fees and checkout solutions.
Shopify Payments appears on your site as an unbranded checkout option for your customers. On the other hand, Shop Pay is a branded button that comes with the iconic Shopify logo. You'll definitely be able to tell them apart on your website.
A few interesting things to note is that your customers can use Shopify gift cards on the Shop Pay solution if you're offering them. Additionally, if your checkout doesn't ask for a shipping address, then Shop Pay won't either.
If you're selling services or downloads instead of physical products, you might not need an address to complete a payment. Shop Pay will pay attention to the kind of checkout process that you already have set-up when creating an accelerated solution.
Shop Pay doesn't force customers to use it every time either. Even if your clients agree to handing over their information, they can always go through the full checkout journey instead. Installing Shop Pay just means that you can give your customers another purchasing option.
Here are some additional ways Shop Pay works with (and differs from) Shopify Payments:
Customers can use Shopify gift cards on the Shop Pay solution if merchants offer them.
If the checkout doesn't ask for a shipping address, then Shop Pay won't either.
If you're selling services or downloads instead of physical products, you might not need an address to complete a payment. Shop Pay will pay attention to the kind of checkout process that you already have set-up when creating an accelerated solution.
Shop Pay doesn't force customers to use it every time; customers can always go through the full checkout journey instead. Installing Shop Pay just means that customers have another purchasing option, so merchants can activate both Shop Pay and Shopify Pay in tandem.
How to Use Shop Pay as a Merchant
How to Use Shop Pay as a Consumer
A Bonus: Shop Pay Also Helps the Environment
One of the unique parts of Shop Pay is that it's committed to offsetting the carbon emissions caused by delivery. This means planting and protecting new trees. Currently, they have protected over 120M trees and planted over 4.6M.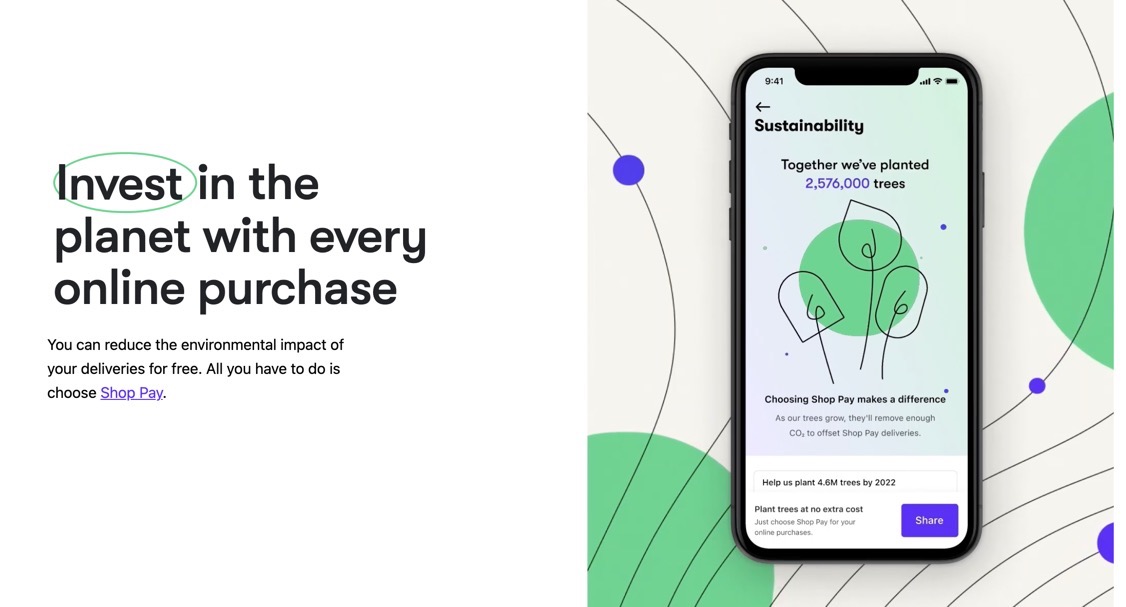 Whenever a customer pays for online orders using the Shop Pay feature, the product ships using one of Shopify's carriers. The Shopify team uses the information they get from their carriers to calculate the emissions each delivery produces. Shopify then offsets the delivery emissions from your sale by protecting several trees.
Shopify believes that protecting trees is the key to reducing carbon emission issues. That's because trees absorb carbon emissions and transform them. This ensures that we have better quality air. Unfortunately, today's fragile forests often have a hard time keeping up with the number of emissions that people and companies create every day. That's why Shopify has made this attempt to protect our trees.
Shopify also contributes to the Shopify sustainability fund. The sustainability fund is Shopify's commitment to use more than five million dollars every year to fight for the environment.
Is Shop Pay Right for You?
Shop Pay is just another payment option offered by Shopify to give sellers and customers a better experience online. Now that customers are demanding more choice and better experiences than ever before, it pays to have a system in place that offers a straightforward and streamlined checkout. At the very least, offering multiple checkout processes will make it easier for customers to buy.
The biggest benefit for merchants is that it encourages regular future sales from your most dedicated clients. The easier it is for these people to make payments, the more likely they are to continue buying from your store. Because of that, and the incredible security that's built into the service, there's really no downside to using Shop Pay.
Another major bonus of Shop Pay is that you get to let your customers know that you're doing something positive for the environment. The carbon offsetting strategy from Shopify ensures that every time you process a delivery, you give something back to the world around you. This is an excellent story to share with your customers if you want to prompt them to purchase more products. Plus, showing that you care about the environment can lead to more loyalty from buyers too.
As for the customer, Shop Pay presents a curated, one-stop-shop for managing everything from payment details to tracking codes. You're only required to type in a quick verification code to checkout online, and you can rest easy knowing that all transactions are secure with Shopify.
Do you use Shop Pay? How is it working out for you? Let us know in the comments, and read more about Shopify stores on our blog.