If you have a business in need of a stunning website, then look no further. This list of best Shopify themes makes it easy to find your perfect design. Whether you have a large inventory, sell a single product, or are just starting out, there is something for everyone in this collection.
Many of the themes in this collection are built to support a wide variety of shops. They often come equipped with multiple designs, unlimited color options, and various fonts. When it comes to building a unique site the technical features are just as important as the style features.
The functional aspects such as built-in sliders, mega menus, and Ajax instant loading help take your site from average to extraordinary.
But first of all, please read our in-depth Shopify review and Shopify pricing guide:
If you're keen to get your hands on the perfect Shopify theme, but you're concerned that you don't have a lot of cash to spend on your eCommerce website yet, don't worry. We recently created a roundup of the best Shopify themes that are 100% free.
Remember, the free themes available from Shopify are still available for customization, so you can adjust them just like you would a WordPress site, and make your brand stand out.
What are the Best Shopify Themes in 2022?
Wookie will be the perfect solution for your current or future Shopify store. It has all required tools and modules to create a super fast responsive website with amazing UX and a great variety of numerous layouts and styles allows to create different structures and satisfies any specific requirements.
The Wokiee multipurpose theme comes with numerous layout sand styles to choose from, including the option to create different structures for your website functionality, such as a shopping sidebar, or extra widgets for your fashion store. With video tutorials and specialist support from the Wokiee team, you can accomplish much more with this product than you could expect from most free Shopify themes.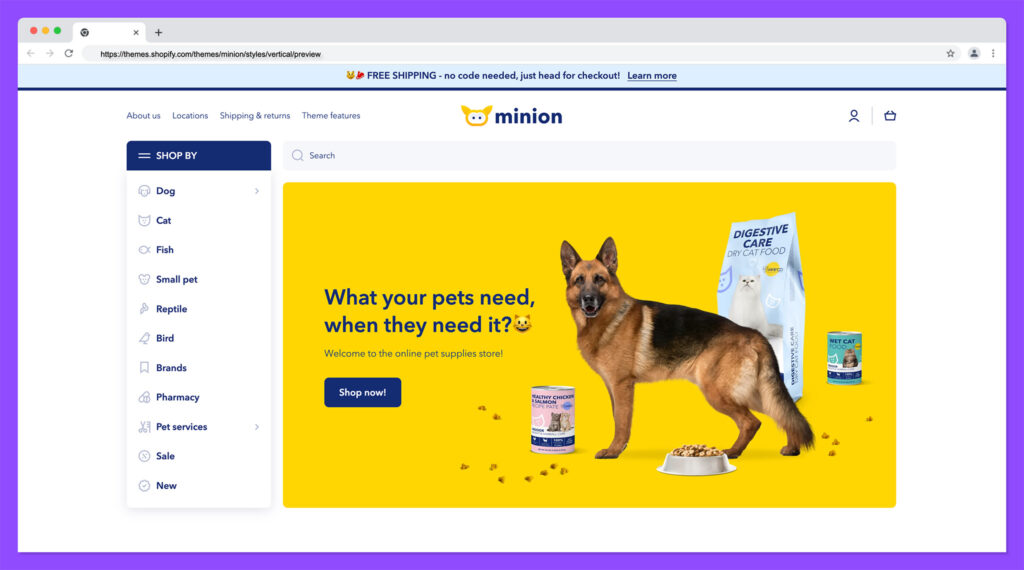 Minion by Softali is described as 'Ideal for the pet industry. With flexible features to fit more niches.' This mobile-optimized theme boasts a fair amount of design customizability across all your web pages. In addition, as many as 24 sections are available for you to play with, so there's plenty of scope to bring your creative vision to life. On top of that, there are three types of navigation to choose from.
Users like the theme's drag-and-drop interface, meaning you can grab different sections and blocks to build each of your web pages without any coding know-how. There are plenty of 'blocks' to choose from, so it's effortless to insert things like images, products, videos, and quotes into your content – to name but a few of the available options!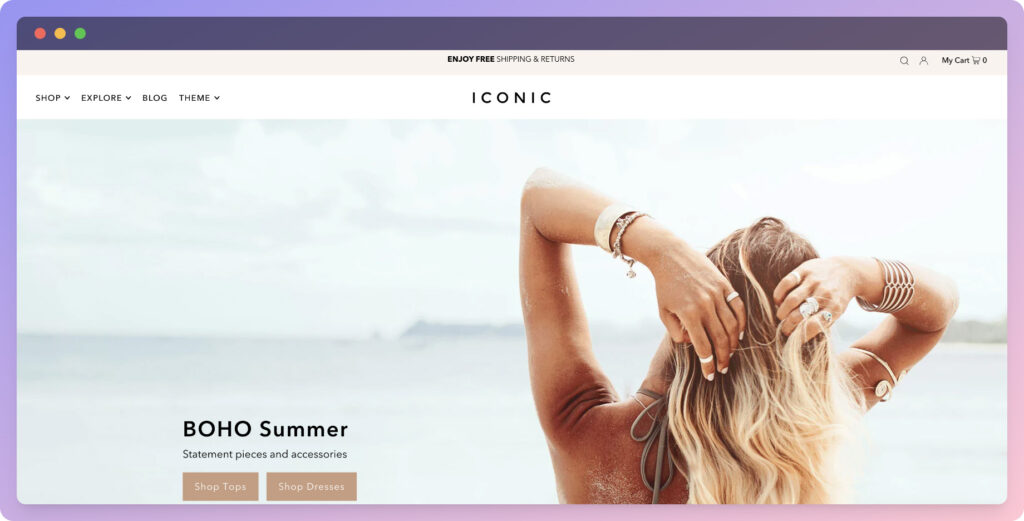 Icon is designed with the visual content brand in mind. The full-width layouts compliment brands with lots of photos and other visual content they'd like to incorporate into the design of the store. Icon works best with social media brands by displaying the shop's Instagram feed.
Icon is a delight to work with if you're all about the images. There are tons of ways to demonstrate your items through product grid and product quick view options, plus you can add sticky navigation and parallax effect scrolling to the mix too. There's no limit to what you can do here.
Molla – Multipurpose Responsive Shopify Theme – is a modern and niche eCommerce template that is perfect for your ecommerce business. Molla includes 20 niche demos, multiple variations for category and product detail pages. The theme is updated constantly with more features.
As a super-fast Shopify theme with one-click installation, the Molla solution is a handy way to get a professional looking website up and running fast. This theme works well with a range of different plugins and pop-up advertising options, and it's great for streamlined scrolling too.
Scrolling through websites is second nature, but Pipeline brings a little life back to classic scrolling. This theme has a parallax effect which allows users to create an animated depth effect as you scroll down the page. It's the unique design features like this that make Pipeline a stand out theme.
Pipeline isn't just a beautiful minimalist theme, it's specially built for larger catalogs of products, so if you're growing your business, this could be ideal for you. Access multi-column menus for customer convenient, and you can even upgrade your SEO with this theme too. The options are endless.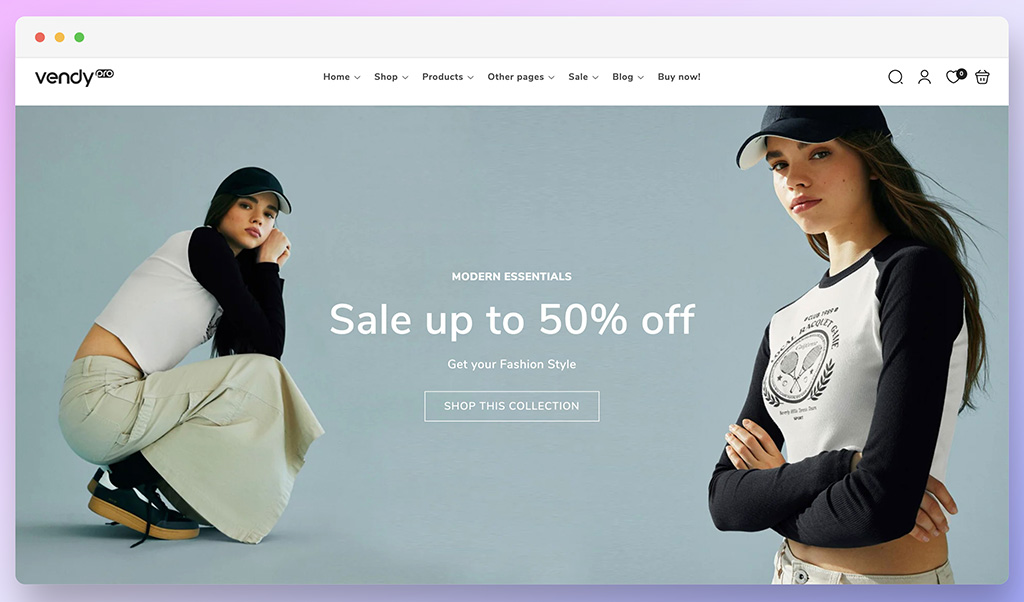 Vendy Pro is a multipurpose Shopify theme with over 14 ready-made homepages to choose from. The sleek and sophisticated designs are a good fit for most eCommerce niches. With Vendy Pro, you can empower customers to create their own product collections and compare similar items so that it's easier to purchase the right product for their bespoke needs.
You can make product pages more accessible to navigate by breaking up important sections into tabs – for example, 'product details' and 'delivery and returns.' On top of that, you can display extra information on your product pages with additional sidebars. These expand the page's fullness to offer further info- like customer reviews.
Also, with Vendy Pro's in-built product filters, you can make it easy for customers to find what they're shopping for. Advanced filter options like colors, sizes, and image swatches are available without the help of additional apps.
Lastly, we want to note that Vendy Pro has other noteworthy features, but unfortunately, we don't have the space to list them all here.
This theme gets its name from the iconic split screen design. This design is perfect for e-commerce stores wanting to make a memorable impression. Although Split is a unique theme it still uses popular web design trends such as the parallax scrolling effect, full-width layouts, and images, plus hover activated animations.
Split is more than just an eye-catching eCommerce theme. This solution could be the perfect choice if you want to make an impact with visuals. Optimized for live images, this theme could be a great choice for your Brooklyn based artist portfolio or your New York fashion magazine.
If you have a product heavy online store, then Colors is the theme for you. The large images and full size Instagram feed make it perfect for visual storytelling. It comes packed with features like product slides and grid-style layout.
Colors works well for people who enjoy the grid-style layout for showing off products. You can transform your products into slides, create a lookbook for your customers to browse through, and even implement tools that allow for personalized product recommendations. The page builder comes with built-in styles and color palettes to choose from.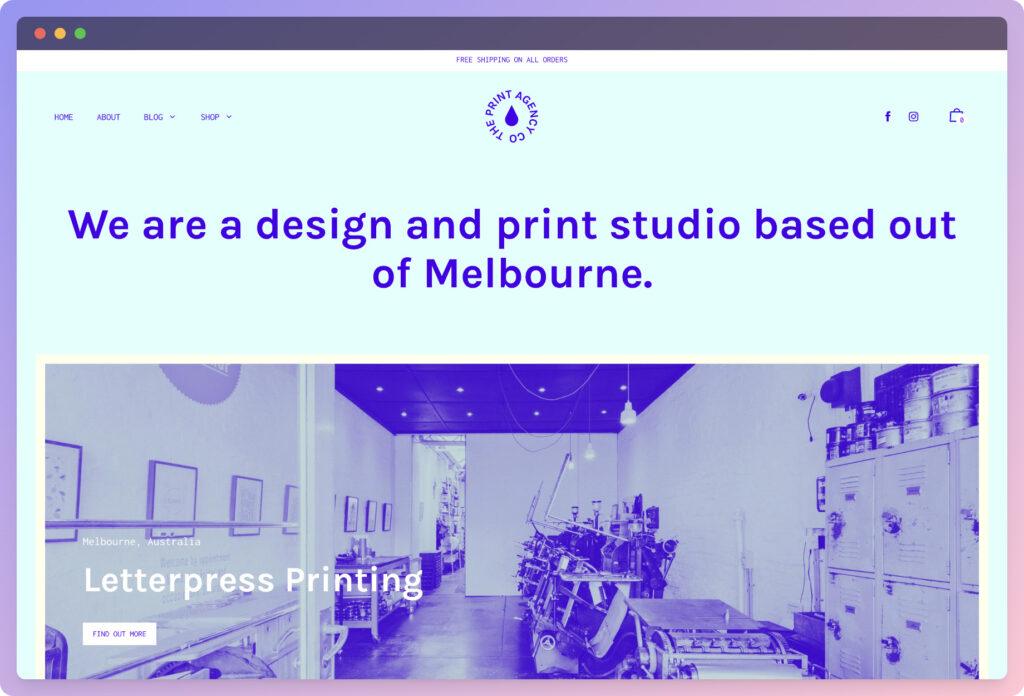 If you have a blog-heavy website then Editorial is the ideal theme for you. Share your brand's story and news by featuring up to 5 blogs throughout your store. Editorial is a publishing-focused theme, designed for brand storytelling.
This is the kind of theme that you're going to love if you like engaging with your audience through SEO strategies and various forms of unique content. Large images look amazing on this template, and there are zoom features too.
Not all online shops sell products, some sell services. Cantina is a great theme for a service-based business. The services list element displays in-store details such as services, price lists, menus, and more throughout your store.
A top seller in the Shopify theme marketplace, this product comes with all kinds of extras, including a quick buy function, predictive search, mailing list popup advertising options and a map integration so your customers can see where they can find you.
Goodwin comes with 14+ ready-made home page layouts and over 50 other pages. Goodwin is perfect for different category store websites: fashion, accessories, shoes, bags, t-shirts, electronics, furniture, sport, toys, nutrition, books, pets shop and any more… You can create many unique and modern websites with Goodwin. The theme is very easy to control and make it suit anything you need.
The Goodwin page builder experience is likely to appeal to people in the visual landscape who want to experiment with different ways of showcasing their popular products. There are tons of live sites relying on this theme right now, but with lots of customization options, you won't blend into the crowd.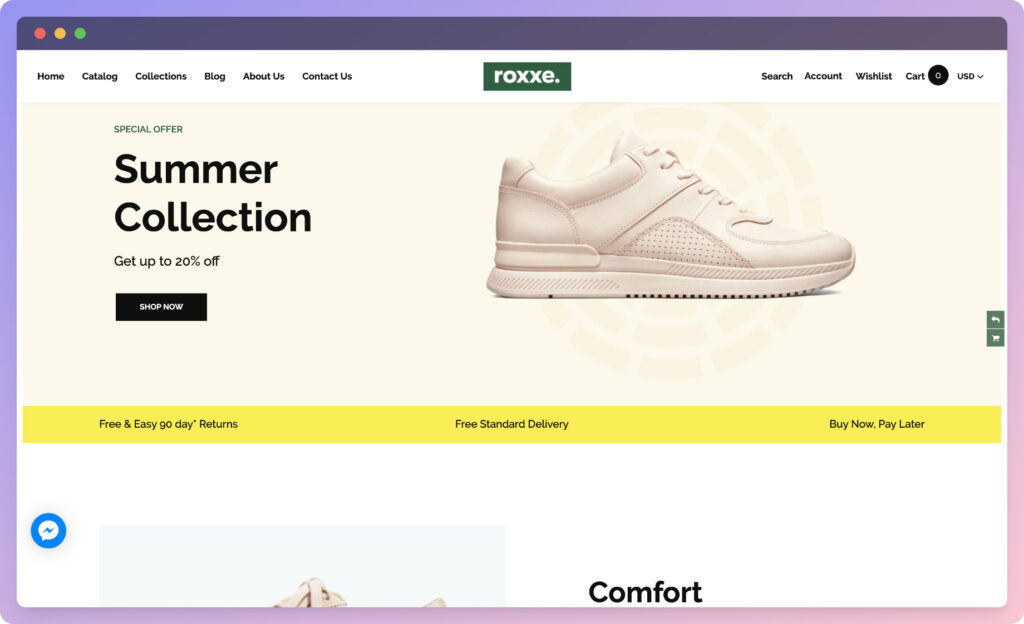 This highly-rated Shopify template design options are nothing short of robust. The theme was designed with modern trends in mind and as such, exudes contemporary flair and professionalism.
Roxxe is still pretty new, but it's been incredibly well-received. It comes with a powerful search module in the navigation area, and over 50 pre-designed layouts with ready-made sections that you can rearrange and combine as you like. You can quickly produce a website with one of the demos and then tweak your content from there. Roxxe also comes with a powerful search module in the navigation area and it works alongside the Shopify Visual builder to allow you to construct as many home page layouts as you want.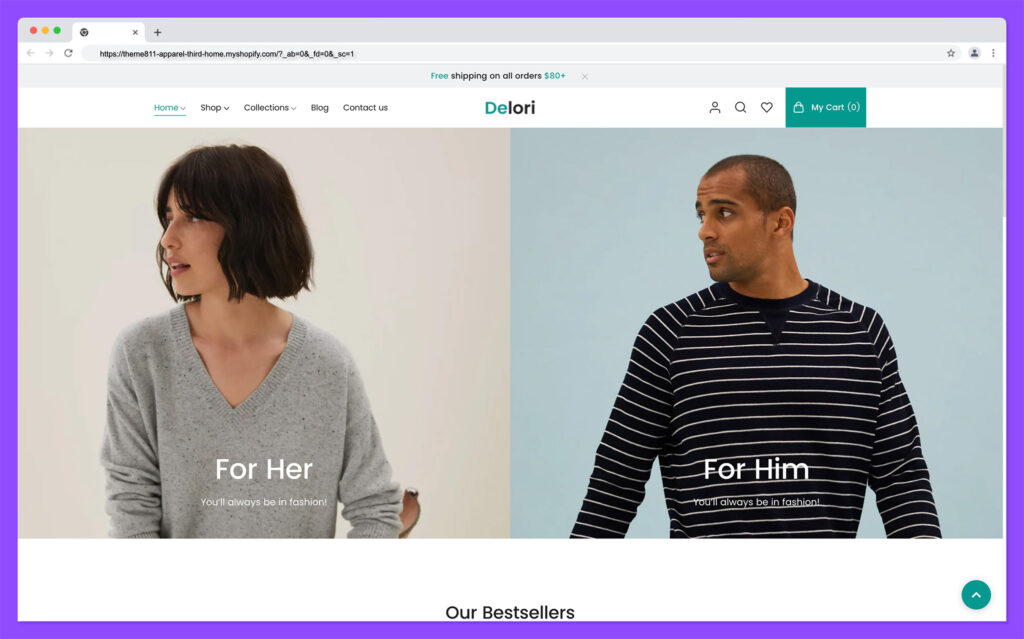 Delori offers contemporary, mobile-responsive paged designs which empower you to showcase your online store. Delori boasts five-star reviews and comes with both Instagram and Facebook integrations.
You can choose from seven home pages and three product pages. The in-built drag and drop page builder enables you to customize these templates with ease. On top of that, each design is SEO friendly to help ensure higher search rankings. Delori also comes with call-to-action pop-ups that you can add to any page and three different product hover variants.
Other notable features include 'Advanced Media,' which allows you to add any kind of media, including 3D, YouTube, Vimeo, and images.
Mobilia designed to showcase your brand with slick styling and smooth content integration. It provides four different designs to help create a stylish e-commerce store. These four pre-built designs help you quickly create a beautiful site selling wine, fashion accessories, tea, and clothing.
Mobilia is sleek and simple, with various home page menu lists to choose from, custom promotion tiles to draw attention to the things you want your customers to see first, and more. You can create your own FAQ page, offer quick buy functionality for people in a hurry, and even showcase related products on product pages.
Universe is a multi-purpose Shopify theme that has everything you need to launch a beautiful and responsive online store in minutes. The responsive layout, elegant design, fast performance and amazing user experience make Universe theme an ideal choice for your Shopify store.
We love Universe for it's attractive design and it's unique range of out-of-the-box features. Both lightweight and versatile, Universe is all about engaging experiences. There are mega menu options and even swiping functionality choices if you want to improve the outcomes for your mobile customers.
Mysterio is a minimalist multipurpose theme for Shopify sections. It allows you to create a stunning store with various layouts for your homepage, product pages, and more. In addition, Mysterio can be used to build modern mosaic galleries that show off your products uniquely, using images, video, and 3D models. A dynamic AJAX filtering system is also built into the theme, making it even more functional. You can modify the Mysterio theme using the visual Shopify builder and customize wishlists and shopping carts.
Mysterio is your best call if you want a feature-rich eCommerce theme catered to improving the user experience. Thanks to its minimalist style, it will suit any type of store or eCommerce project. On top of that, it also provides top-notch mobile compatibility.
Foodly is authentically designed as a one-stop Shopify grocery shop. It's responsive as well as retina and ecommerce ready. The theme includes a basic set of imagery and all illustrations. Foodly provides all the necessary tools to create a beautiful site for all your food needs.
With an excellent responsive design and a unique range of customization options (including deal showcasing features), this Shopify template is sure to appeal to many business owners. Foodly is perfect for those who want clean simplicity, and it's even a Shopify theme award winner.
Ella is a responsive fashion and apparel template. It mixes and matches features like colors, banners, and blocks to create a gorgeous layout. Ella utilises a large banner to showcase the best products and catch the users eye. By using this theme your website is guaranteed to be displayed perfectly on all devices.
With options to add your own homepage video, link to Google maps and so much more, it's easier than ever to capture the attention of your audience with this Shopify template. You also rest assured that you'll have plenty of banner and product block choices from one of the best-selling premium themes of all time.
The Basel theme is perfect for any kind of store and offers a minimalistic design. The translation ready feature makes it easy for those stores looking to reach an international audience. The drag and drop editor makes it easy to customize every aspect of your dream store.
Basel is sure to make it onto your Shopify theme wishlist if you're looking for something that combines premium sliders with heavy-duty functionality. There's a host of different personalization options to choose from as you're building on your site, and you get excellent customer support as part of your purchase too.
Atlantic was specifically built to boost conversions. It's striking, scalable, and perfect delivering a memorable user experience. All of the layouts are optimized for displayed large images, as well as a homepage full-width welcome image, video, or slider.
This Shopify theme supports a range of styles, and a multi-column menu for easier navigation. The modular style homepage shows off brand content with ease, and you can even use Google maps to show your customers where their products are available for pickup.
Retina has four distinct demos that are suitable for a range of brands and products. All four designs are flexible and can be easily modified to match any business.
Some of the best features of this theme include customer testimonials publishing tool, multi-level menus, flexible product filtering, product image zoom, and Instagram integration for displaying photos from your feed in your store.
If you want an advanced product for your Shopify theme, then Retina has you covered. There are so many ways to make your site stand out with this device, and you can even place multiple video widget designs on each page.
Slideshows and videos can make any online store stand out, but the Galleria Shopify theme does it better. The theme changes up the traditional horizontal slider with a vertical slider. It also allows users to tell their story by featuring a video on the home or product pages.
This is a Shopify theme that's all about beauty and personalization. You can allow your customers to filter what they see in the side bar, and even show animated color swatches against your products to help customers in making the best buying decisions.
Shella is an amazing Shopify theme tailored for users in the fashion industry. Filled with a rich selection of features, this theme is unique in this niche. With the True Filter feature, you can filter products by everything from price, title, description and so forth. The theme also comes with more than 68 pre-designed pages.
Shella gives your customers more choice and the freedom to engage with your products in the way that they see fit. There are tons of regular updates for the theme, so you'll never fall behind on the latest feature, and you can benefit from one of the fastest performances around too.
Fastest is both technical and stylish. By using this theme you can easily increase sales from every order by using upsell techniques. Fastest is highly customizable, allowing you to style every aspect of your site.
Clearly, this is a theme that's designed to deliver incredible experiences at a speed that your customers can appreciate. Not only can you adjust your site to suit your brand, but you don't have to compromise on customer experience to do it.
Lena is a clean and modern layout equipt with six unique home layouts It comes with a built-in header slider and a unique drop-down shopping cart that lets customers instantly view the products they've added. The quick view feature allows customers to easily preview products and even buy related products.
Flipping through product pages is a breeze with this theme, and there are dozens of demonstration pages to check out if you're not sure what kind of design you want to create initially. You can even create your own fashion lookbook.
Kodo sports a minimal theme with pre-built designs and a layout builder tool. Kodo layouts are all wide and spacious, giving your products plenty of room to breathe on the page. It has the option to be fully customizable, but if you don't have the time Kodo still has plenty of features to make a beautiful online store.
Kodo is a great theme choice if you're looking for something beyond the standard product grid experience. With plenty of open space and minimalist design Kodo stands out among premium Shopify themes to make your site look as impressive as possible. You can even create product quick view options for browsing customers.
Palo Alto is a gorgeous theme built for the contemporary brand. It works best for stores with small catalogs. Some of the best features include a collage-style layout, hero video, and Customer testimonials.
We love this theme for more than just it's incredible visual appeal. You can all kinds of button and menu customizations to this store, and make it easier for your clients to share their opinions with you too. Huge hero images look great with this theme.
Apparelix is a clean, multipurpose Shopify theme for creating all kinds of eCommerce websites. The Shopify theme has a number of layouts for the Home Page, for Headers and Footers, has product page variations, custom pages, more than 10 skins, a number of color options and a boatload of font options.
You can modify the favicon, the content on the sidebar, and set up the mega menu. There are also many other ways to customize the website with this clean theme that you can repurpose for multiple uses.
You don't need any coding skills to create your site so you will be able to design almost anything with Apparelix. You get a powerful and easy-to-use interface that lets you both update and maintain your site.
Apparelix has these features and more:
Banners
Countdown Timer
Collection List
Mega Menu
Featured Products
Single Product Page
Creating a beautiful online shop is similar to telling a story. Every detail is important. The Shopify theme Narrative beautifully tells your shop's story. You are able to showcase the finer details of your product with customizable image blocks, quote slides, and more.
This convenient theme is ideal for smaller businesses with room for growth. Whether you want to showcase your accomplishments with slideshows, or create a fixed navigation experience for easy browsing, there are no limitations here.
With three very different designs and a great feature list, District appeals to a wide audience. This theme focuses on enabling you to publish product collections that help you curate your best items. District integrates social media features to help promote content, build a following, and add social proof to your store.
Add your own promotional banners to your site to show your customers what's available right now, or use marketing pop-ups to strengthen your chances of collecting email addresses. Advertising your store is easy with this theme.
Flow is a sharp and minimalist design that puts the product front and center. All three of Flow's designs are ultra-modern looks set to appeal a very specific type of shopper. With that being said, Flow is perfect for someone looking to sell high-end products. The homepages are beautifully created for both desktop and mobile.
With support for unique product grids, long-form home pages that contain plenty of handy information about your business, and even a collection page sidebar for showing trending products, this Shopify theme is sure to check plenty of boxes for you.
There is no need to spend countless hours searching through hundreds of themes because we have already done that for you. Our 31 best Shopify themes of 2022 are curated exactly for you. They are highly customizable and responsive so you can create a professional website for your store.
Building your dream site can seem like a daunting task, but hopefully, after looking through these Shopify themes, it doesn't seem so scary.
This collection is perfect for anyone looking to create a standout site in 2022. Even a beginner can successfully handle and manage a platform as user-friendly as Shopify, and these themes will take care of the UX for you.
Feature image by Seller Smith