If you're an online seller looking to boost your conversion rates, look no further than this Beeketing review. This may well be the marketing automation solution you've been looking for. Here we'll dive into everything this platform has to offer so that by the end of this blog post, you'll have a clearer idea of whether Beeketing is the right fit for you. However, we'll warn you now that it's one of the pricier options on the market. That said, most of their pricing bundles come with a plethora of features to help you drive sales.
Intrigued? Let's find out more…
What is Beeketing?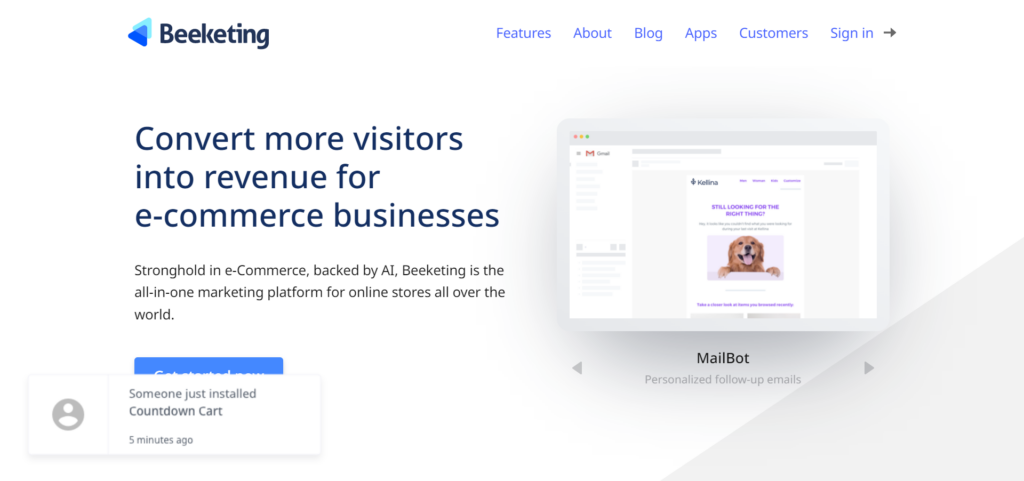 Launched in 2008, Beeketing provides AI-fuelled marketing tools designed to increase conversions and improve sales. Beeketing enables you to track visitors on your eCommerce website and provides the tools you need to convert them into paying customers. Namely, by offering targeted customer recommendations and automating actions based on customer behavior.
At the time of writing, Beeketing works with over 350,000 online shops, with the average user enjoying a 10-30% increase in conversion rate.
Unlike other marketing platforms that structure their pricing around a hierarchy of tiers, where the more you pay, the more features you unlock, Beeketing consists of multiple separate apps. You can install a range of free apps or opt for some of its paid tools to create a more comprehensive suite of marketing tools that suit your business's needs.
Core Features 
As mentioned, Beeketing focuses on tracking customer behavior across your site. For instance, it can monitor:
When someone becomes a subscriber
When products are added to the cart
When purchases are made.
…Etc.
It doesn't matter if customers chop and change between different devices and internet browsers; Beeketing can identify the relevant data and associate with the right lead. This information is then used to automate and optimize your conversion funnel.
With the basics covered, let's turn our attention to the nitty-gritty of Beeketing's features:
Checkout
The best time to offer an upsell is when a customer reaches your checkout. So, by analyzing the type of products customers have viewed or purchased, Beeketing can make last-minute recommendations to help boost their shopping cart's value.
Similarly, Beeketing helps you encourage customers to return to abandoned carts by offering deals and incentives before they leave your online store. You can set gifts, discount codes, and even free shipping to appear based on different triggers. For instance, if a customer's cart reaches a certain number of items, a perk is activated. Or you can place a condition for a free deal if a customer shares your product on social media. Of course, these are just a couple of scenarios – but you get the gist!
Another valuable feature is the checkout countdown. Customers can see how long they have to secure time-limited deals from your checkout page. This creates a sense of urgency, which motivates consumers to commit to making a purchase.
Pop-ups
Beeketing offers a pretty neat app called Sales Pop. This tells visitors browsing your website about recent purchases other users have made. The idea behind this function is that if you present potential customers with social proof that other people are interested in your products, they're more likely to buy.
A selection of themes is available to help you design these pop-ups, including Halloween, Christmas, New Year, etc. Alternatively, you can customize templates from scratch with your own visuals and colors. Or, if you have some coding smarts, you can use Beeketing's CSS style editor to granularly edit the pop-up to reflect your brand's exact aesthetic. Of course, you can also specify where, when, and how messages appear on the visitor's screen.
You can also utilize Sales Pop to notify users about relevant product recommendations based on their interests. On top of that, you can create pop-ups offering discounts. Here you can provide shoppers with coupon codes released to the user once they perform a specific action. For example, liking your brand on social media, signing up to your mailing list, or returning to an abandoned cart.
At this point, it's also worth noting that all pop-ups work seamlessly across mobile, tablet, and desktop devices. The same goes for Beeketing's chat widget, which moves us nicely onto our next section…
Chat
Beeketing has a quick Facebook chat widget that enables you to offer live assistance to shoppers. Customers can start conversations with you from your online store and then move to Facebook to continue the chat. This works wonders for upping your customer service game!
Emails
When a customer makes a purchase, Beeketing automatically sends a thank-you email with personalized recommendations for that customer.
You can send personalized, automated emails to subscribers based on their interactions with your brand. By this, we mean you can feature relevant products, offer promotions, and update them on new products (as appropriate). You can also set up cart abandonment campaigns, create marketing workflows that nurture loyal customers, and construct campaigns to win back inactive customers with coupons.
However, it's worth noting that when it comes to automated email marketing, Beeketing relies on its MailChimp integration. But, fear not; Beeketing's paid subscription includes MailChimp in its pricing. Once you link your MailChimp account, you can import contacts generated through Beeketing, segment your mailing list, and design custom emails.
Analytics
Beeketing integrates with Google Analytics to measure transaction, conversion, and visitor metrics. You can also generate reports directly from Beeketing. More specifically, there's a dashboard where you can see your number of checkouts, conversions, and total revenue based on different offers you're running. Simply select the report you want to see from this dashboard, and you're good to go!
Beeketing Integrations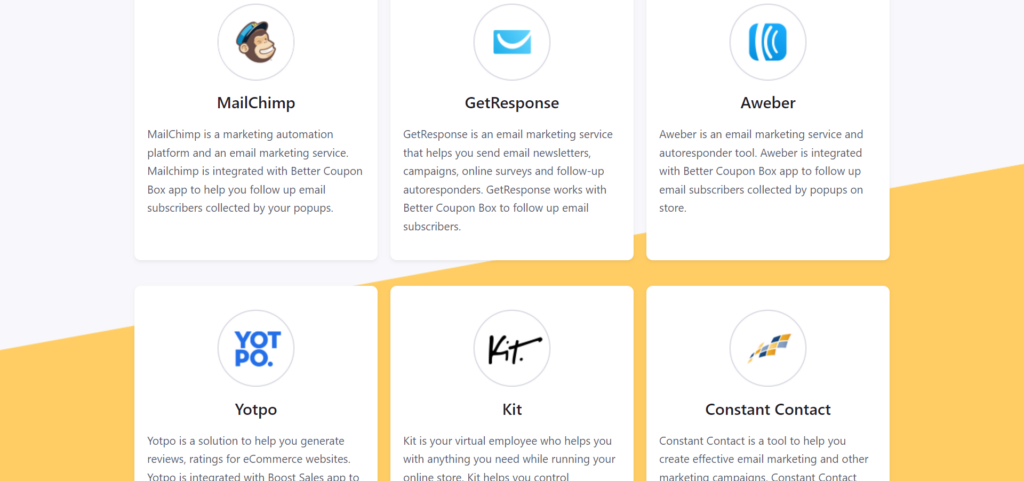 Beeketing integrates with two major eCommerce platforms: WooCommerce and BigCommerce. It used to be compatible with Shopify, but as of 2019, this is no longer the case.
In total, they have eight integrations, including:
GetResponse
AWeber
Yotpo
Campaign Monitor
iContact
MailChimp
Beeketing Pricing 
Beeketing's pricing model centers on each individual app, allowing you to pick and choose which functionalities you pay for. All paid apps come with a 15-day free trial. However, there are a few free apps available too.
Free Apps
Better coupon box:
Set up quick, mobile-optimized website pop-ups using out-of-the-box designs
With free coupon pop-ups, you can't target your audience – but you can still launch them to upsell promotions and coupon codes.
Sales pop:
Showcase purchases in real-time to your website visitors.
Access seasonal and holiday themes for your pop-ups.
Select where and when pop-ups appear.
Facebook chat widget:
Integrate Facebook Messenger with your website.
Customers can automatically be added to your Facebook subscriber list when they message you.
You can customize the widget's design with your own colors and set a welcome message.
Countdown cart widget:
This shows visitors how many items are left in stock, how many people are looking at a product, and how many have bought it.
You can set limited-time offers to create a sense of urgency.
There's a selection of holiday and seasonal themes to choose from.
Mobile converter:
This makes sites accessible for mobile devices.
It creates a mobile-optimized call to action and mobile gallery for products
No coding needed
Paid Apps
The free apps above can offer premium features for a monthly fee. Other apps are paid from the start and are billed monthly as well. However, you can save some money by opting into annual billing.
Premium Better Coupon Box – $30 for 3 months
Create personalized, targeted coupon pop-ups.
Integrations with email services like MailChimp and Constant Contact.
Set up conditions for how and when pop-ups appear.
Checkout Boost – from $27 a month
This includes the Sales Pop app and the Checkout Countdown.
You can offer a range of promotions on your checkout page, such as free gifts, free delivery, and discounts to entice users to check out.
Create customizable pop-ups triggered by user behavior. For example, exit-intent pop-ups.
Access to detailed performance analytics on revenue, conversions, and more.
Boost Sales – from $30 a month
Upsell using targeted product promotions. Upsell options can appear on product pages, the cart page, and before checkout.
Show discounts on product bundles or similar product recommendations.
Use AI to generate relevant offers based on customer behavior.
Promotions can boast pre-designed holiday and seasonal themes.
Access to advanced reporting on different promotions, conversions, and sales.
Personalized Recommendations – from $19 a month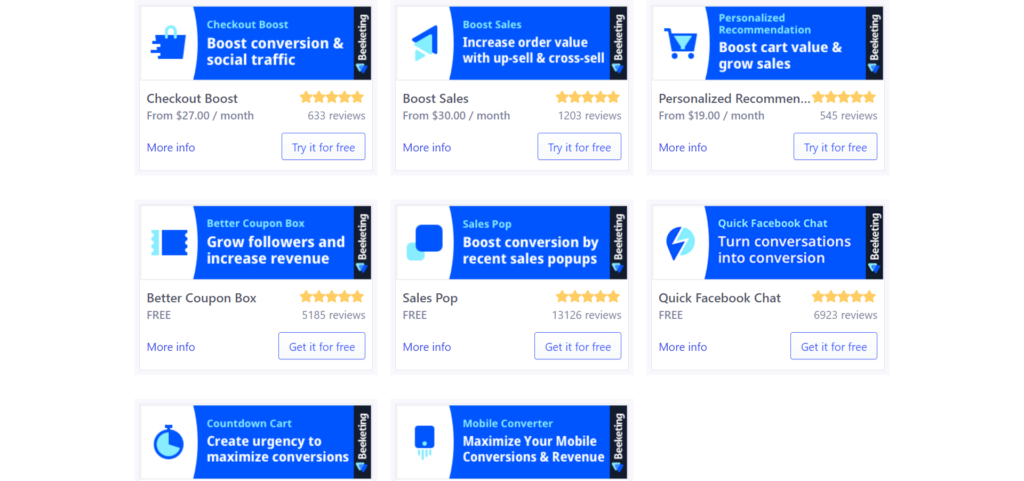 Personalized recommendations can appear on product pages, the homepage, and your online cart. The more a customer interacts with your store, the more data Beeketing can gather. Therefore, the more relevant the recommendations become.
You can communicate to customers your best-selling products, what other people bought alongside an item, and post featured product recommendations.
Customize the style and design of recommendations from your settings- you can decide where recommendations appear and modify basic design elements.
To see which method performs best, access analytics and reporting for different recommendation campaigns.
Beeketing Pros and Cons 
We've covered a fair amount of info above, so to help consolidate what we've learned, let's take a quick look at Beeketing's most notable advantages and disadvantages:
Pros 👍
Beeketing integrates with two major eCommerce platforms.
Beeketing comes with several free apps, such as Sales Pop, Better Coupon Box, Answers, Happy Email, Countdown Cart, etc.
Beeketing comes with built-in analytics and reporting tools.
The apps are lightweight, so they won't slow down your online store
The apps are easy to use
Cons 👎
You have to pay for each individual Beeketing app you want to use.
Beeketing doesn't offer built-in email marketing (so you're reliant on third parties for this functionality)
Beeketing doesn't integrate with Shopify stores anymore.
The website doesn't offer much information – the multi-app structure isn't very transparent, and it's impossible to see different pricing plans and the limitations of free apps.
There are only eight total integrations.
Some of the features overlap amidst the apps, making it difficult to decide which has the most value for your business.
FAQ
Before bringing this Beeketing review to a close, let's answer some of the most frequently asked questions about the solution:
How do you install Beeketing onto your eCommerce store?
The process is relatively simple if you're looking to install Beeketing onto an eCommerce platform that Beeketing has a native integration for.
Below we'll demonstrate the necessary steps with WooCommerce:
Log into your WordPress backend
Navigate to plugins, and search for Beeketing.
Once you've found it, hit 'install,' followed by 'activate.'
Return to your Beeketing account and enter your website's details.
You'll then be prompted to connect Beeketing to WooCommerce. Select 'Let's connect.'
Once you've signed in, choose which Beeketing apps you want to install.
Once installed, you should be able to open the Beeketing app from your WordPress dashboard.
What if I have a Shopify site?
Unfortunately, Beeketing and Shopify broke ties in 2021. Since then, Beeketing was forced to cancel all Shopify subscriber accounts. Sadly, this means Beeketing is no longer compatible with Shopify stores. However, there are alternatives on the market.
Shopify has provided a list of Beeketing alternatives. We'll cover just a couple here:
Selly promotion and pricing app – starts at $29 per month.

You can recommend products to visitors using pop-ups or on-page bars.
Upon checkout, you can sell product bundles or offer gifts, discounts, and free shipping.
You can specify different prices depending on the type of buyer, for example- VIP, wholesales, and subscriber-specific prices.
Access built-in analytics for different promotions, including the number of viewers and checkouts.
Bold Upsell – Starts at $9.99 a month.

You can offer product upgrades and/or complementary products at checkout.
You can provide post-purchase product recommendations.
All data is trackable from your dashboard, including analytics on the performance of your offers, conversions, and more.
You can personalize offers with your unique branding, i.e., colors, typography, and visuals.
You can set up conditions for when and how offers are displayed to users.
Beeketing Review: Our Key Takeaways
All in all, Beeketing is great if you're looking for apps to help upsell products, create promotions, and drive sales.
It may be best to start with their free apps and see where that takes you. The paid features, while comprehensive, can get expensive if you need to use several apps at once. However, based on the pricing of Shopify's recommended alternatives, you'd still be looking at similar costs if you went elsewhere.
In short, Beeketing is worth considering if you're an established brand wanting to improve its long-term sales performance (providing you're not a Shopify user!).
Have you ever used Beeketing before? If so, tell us all about your experience in the comments box below!